By Corey Burns, Special to the Reporter
April 27, 2011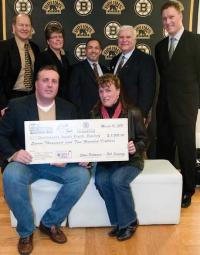 Matt Sweeney, who has served as president of the Dorchester Youth Hockey program for the last three years, and his wife Jill accepted a grant from the Mike Cheever Grow Hockey Development program on March 10 at TD Garden. Also on hand to present the awards were co-chairs Jim Maimone, Ellie Cheever, Tom Songin, Steve Palmacci, and Bob Sweeney.
Matthew Sweeney, who has led Dorchester Youth Hockey (DYH) for the last three seasons, and has been a guiding force for the program for much of the last decade, will step down from his post later this month. Sweeney, who moved up the ranks of the volunteer board to attain the position of president, has been instrumental — along with his wife Jill— to the continued success of the Neponset-based organization, which is one of the region's most highly respected hockey and ice-skating programs for youth.
Matt and Jill got involved because both of their sons have played in the program. Sweeney went from coordinator to vice president and finally to president.
While Sweeney will step down from the top position, he will still be involved in fundraising for Dorchester Youth Hockey, which has been a neighborhood fixture for more than 40 years.
"I honestly believe that new faces are good for the continued growth of the program," Sweeney told the Reporter this week. "I think Jill and I will still volunteer as much as possible, but we have a strong core of volunteers with great ideas and a ton of energy.  We have so many parents now willing to get involved, and many of those parents have children in the 6-8 year old range. The future of the program is in their hands and I'm sure we will see some wonderful things in the future for Dorchester Youth Hockey."
In addition to running a highly-competitive house league and travel teams, DYH offers learn-to-skate programs for children as young as 3 years old at their home ice, the Devine Rink in Neponset.
Sweeney's position of president entailed numerous responsibilities, from scheduling and fundraising to promoting the program and interacting with the many families enrolled in Dorchester Youth Hockey.
"When Matt took over as the president of DYH, he brought new ideas and great energy to the program," said Jay Broderick, who serves as vice-president of the organization. "He has been able to combine his common sense with his business sense and as a result, has brought many new opportunities to the program. Without exaggeration, Matt's efforts have stabilized Dorchester Youth Hockey and has led to DYH being a model program throughout the state."
Just a few years back DYH was pen and paper sort of program. Under Sweeney's leadership, DYH now run almost everything through their website. This is major step forward for the program and enables them to keep in contact and provide daily messages to the over 350-plus hockey families.
Sweeney, a Dorchester native who works for a senior health care company, has enjoyed every part of his volunteer job as president.
" I especially enjoyed working with the Board," said Sweeney. "We have a good core of volunteers that are extremely active. Each year we were constantly trying to put ourselves in a position of growth, while increasing the level of communication we had with our families."
One of the most important contributions Sweeney has made is the involvement in grant writing for the program. The first outside grant was secured in February in coalition with Mass Hockey and the Mike Cheever Foundation, which the program hopes is the first of many to come.
"With the growth in youth sports in the last decade, fundraising has elevated to another level.
Competition is fierce," Sweeney said. "We no longer can simply rely on canning and small events. We included grant writing as another item for the fundraising committee."
The growth of the league has to do with the coaching staff, the affordability, and the history of the program itself. Sweeney believes that they have made it more attractive for parents and more competitive for the neighborhood children.
"Our goal as a board was to get the skaters on the ice as much as possible. We rotated ice schedules, utilized the weekends for skills, and provided goalie clinics. The parents pay a lot of money on this sport and we want them to feel satisfied. Youth sports are more competitive these days and you have to treat it like a business, that includes customer service," Sweeney said.
According to Broderick, the impact of Sweeney's tenure will be best exhibited in the performance of DYH's players in the years to come.
"Our teams play with pride and class while maintaining a certain swagger that comes with being from a great neighborhood like Dorchester," Broderick said. "We take great pride in our success on the ice but even more so of our success off the ice. Matt has made sure that character remains a top priority. As a hockey program we may not turn out many players like Jimmy Hayes or Chris O'Sullivan but if we turn out young men like Matt Sweeney, then our program will continue to be a success."
Sweeney's successor will be elected on May 18 during the DYH annual elections. For more information on the program, go to dorchesteryouthhockey.com