By Chris Harding, Special to the Reporter
March 8, 2011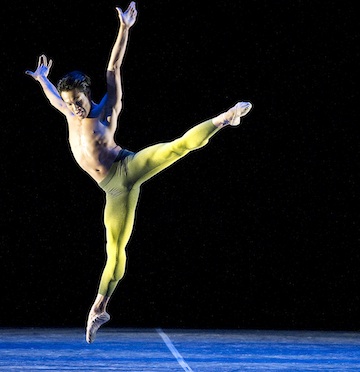 Boston Ballet at Strand: Soloist John Lam represents the dynamic talent that will take the Strand stage on Friday. Photo by Gene Schiavone.Young Dorchester dancers will be "taking flight" as they bring audiences at the Strand Theatre to new artistic heights on Friday. A year ago the debut of the Boston Ballet at the Strand was so well received that Artistic Director Mikko Nissinen is bringing his renowned dance company back this Friday for free performances at 11 a.m. and 7 p.m.
The morning school showcase, developed specifically for the Strand, offers a dynamic introduction to a variety of dance forms through an interactive and diverse program, which includes performers from a Dot middle school.
All of the Strand's 1400 seats are expected to be filled on Friday morning with students from 11 Boston Public Schools, mostly from Dorchester, including the Clap, Greenwood, Holland, Mather, and Murphy Schools. The Lilla G. Frederick Pilot Middle School will turn out as well to support fellow students who will perform.
Boys in Motion, an extended learning time option at the Frederick School, is part of Boston Ballet's Taking Steps, which teaches "movement as a path to healthy self-expression for adolescents."
Choreographer Yo-el Cassell chose the music for the boys' dance from Igor Stravinsky's "Petrushka," a ballet about a puppet that comes to life. He initially planned to call the routine "Jump, Soar, Fly."
However, when Cassell polled his Boys in Motion dancers and drummers, they opted instead for the name "Taking Flight." Much of the movement originated from the boys' ideas, which he incorporated into the dance's final form.
Cassell says, "'Taking Flight' celebrates the organic and raw power of the dancing and drumming boys themselves, celebrating their quirks, rawness, individuality, and extremely powerful voice through movement."
The morning performance, emceed by Boston Ballet School's Evelyn Cisneros-Legate, will feature a new work by Boston Ballet second soloist Jeffrey Cirio, who among many international honors won a gold medal at the 2009 Helsinki International Ballet Competition, becoming the first American to do so. Also on the bill also are works by George Balanchine and Jorma Elo, as well as an audience participation piece lead by Jeffrey Cirio and soloist Joseph Gatti.
The one-night-only programming at 7 p.m. will include Cirio's new work From Zero 2 Five in 43, excerpts of George Balanchine's Divertimento No. 15 and A Midsummer Night's Dream, Helen Pickett's Tsukiyo, and Jorma Elo's Plan to B.
Dorchester-based community groups who RSVPd include Ashmont Adams Neighborhood Association, Dorchester Roots and Shoots, Dorchester House, Girls' Group of Dorchester, Fuller-Bailey Neighborhood Association and Executive Soul.
The few remaining tickets to the evening performance must be picked up in advance at either The Strand, 543 Columbia Rd., between 10 a.m.-5p.m. or Boston Ballet box office, 19 Clarendon Street, Boston,9:30 a.m.-5:00p.m.