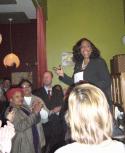 Pressley makes point at fundraiser. Photo by G. Dumcius. Click to enlarge.One after another, they spoke inside the Tavolo restaurant in Dorchester: City Council President Stephen Murphy called her a "tremendous asset" on the City Council. "She doesn't deserve her spot on the council, she's earned her spot on the City Council," said state Rep. Marty Walsh. "I'm proud to have another sister on the City Council," District 3 Councillor Maureen Feeney told the crowd.
The focus of the praise, City Councillor At-Large Ayanna Pressley, would follow them, taking off her stilettos and standing on a chair to outline a lengthy list of accomplishments 14 months into her first term.
Left unmentioned during the speeches at the Tuesday night fundraiser was the conventional wisdom circulating among local political observers that Pressley may be in for a serious fight in a low-turnout election year thanks to one person: Michael Flaherty.
Flaherty, who gave up his City Council At-Large seat in 2009 to run unsuccessfully for mayor, is mulling a return to the 13-member body and told the Reporter last week he'll make a decision sometime this spring. He has also said he is interested in running again for mayor in 2013.
"I've never subscribed to conventional wisdom about anything," Pressley, the daughter of a single mother and the first African-American woman elected to the council, said to the Reporter Tuesday night when asked about Flaherty. "And if I did, I wouldn't be sitting here right now. I'm just going to run my race."
A South Boston native and prolific fundraiser who frequently topped the ticket when he ran for one of the four at-large seats, Flaherty is considered a favorite to win a spot on this year's council if he decides to jump in. That leaves the two candidates who finished third and fourth in the 2009 council scrum— Felix G. Arroyo and Pressley, respectively— most vulnerable.
Arroyo, the second Latino to serve on the council, and Pressley secured the two vacant seats in the 2009 at-large race.
Because he was the top vote-getter in the 2009 preliminary and final elections, City Councillor At-Large John Connolly, an attorney and former teacher, is considered safe in his chair. And because the voters in the low turn-out race are expected to be generally older and come from areas like South Boston and West Roxbury, Murphy, a city councillor at-large who has been on the bubble in the past and last year lost a primary race for state treasurer, is viewed as safer in his seat than Arroyo and Pressley.
Aside from Flaherty, no other major challenger has publicly and loudly declared an interest in this year's at-large race, insiders say, and if some do, they are likely to face an uphill battle against four incumbents.
As an incumbent, Pressley is expected to have plenty of support. Rep. Walsh, a Dorchester Democrat and top union official in the greater Boston area, pointedly noted during his speech in Tavolo that Pressley will have the building trades in her corner. Freshman Rep. Carlos Henriquez (D-Dorchester) said after the fundraiser that he would be endorsing her.
Murphy is backing her and the other two councillors at-large. All three supported his bid for the presidency last fall, as did the rest of the council.
Arroyo had his own fundraiser on Sunday at Stella in the South End that doubled as a protest of the exclusion of gays and lesbians from the main St. Patrick's Day parade. Mayor Thomas Menino put in an appearance, as did several state representatives.
According to the Office of Campaign and Political Finance, Arroyo has a balance of about $57,000 in his campaign account, while Pressley has about $27,500, a figure that does not include the haul from the Tuesday night fundraiser. Connolly has an ending balance of $137,240 and Murphy has $3,372, a number that does not include a fundraiser he had earlier in March.
The City Council has a much different dynamic than what it had when Flaherty was a member. Each of the councillors at-large has an area of focus, insiders say: Murphy has his usual portfolio dealing with finances; Connolly has been tearing into Boston Public Schools issues; Arroyo is unabashedly a union representative; and Pressley has focused on combating poverty and promoting women's issues.
There are, of course, some tensions, particularly between Connolly and Arroyo, both hyper-ambitious politicians. The two were involved in a short but intense verbal scuffle last week, several feet away from a City Council hearing on vacant school buildings, according to individuals familiar with the incident.
Ask councillors their thoughts on the possibility of their former colleague running again and they demur.
For his part, Flaherty said he has spent several weeks speaking with residents, community leaders, and labor leaders. He walked in the St. Patrick's Day parade in South Boston as a member of a citizens association and courted support in Roxbury during last week's District 7 city council special election. Flaherty greeted voters outside the Boys and Girls Club on Warren St., which is a polling location for two precincts in Ward 12, and Orchard Gardens School, a polling location for three precincts in Ward 8.
He was shaking hands, "just saying hello and seeing what was going on," Flaherty said. "I make no secret of my desire to help and serve the residents of the city, while keeping all of my options open. I plan to meet with more residents over the next month."
Some local observers say if Flaherty has his eye on the mayor's office and hopes to slingshot his way into it with a return to a City Council At-Large seat, he should stay focused on running for mayor again, particularly if he wants the support of communities of color.
"It is not in the best interest of the community for Flaherty to enter the race," said Marvin Venay, a local political analyst. Nor is it in Flaherty's best interest, argues Jim Spencer, who worked on the mayoral campaign of former City Councillor At-Large Sam Yoon and then on Flaherty's campaign when the two teamed up against Mayor Menino.
"If Michael decides to run, he's forced into a position where he has to get into first place," said Spencer, a Pressley supporter who has known her since she was an intern in former Congressman Joe Kennedy's office. "I'm sure he misses it. He's been a good public servant," Spencer added.
The field will likely shake out sooner rather than later. The first day to apply for nomination papers is less than a month away: April 20.
The last day to apply for nomination papers is May 16, according to the Boston Election Department.