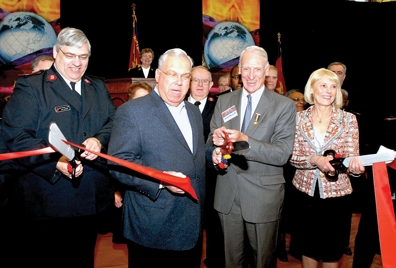 Kroc Center: Major William Bode of the Salvation Army, Mayor Tom Menino, John Hamill of Sovereign Bank and Linda Wendfeldt, Joan Kroc's daughter, enjoy Saturday's ribbon-cutting of the Kroc Community Center on Dudley Street, Dorchester. Photo courtesy Mayor's office
The new Kroc Center seems to have it all as it aims to serve local residents and families and more than 19,000 children living within a mile of the facility: The aquatic enter center with a heated indoor water park and a water slide. The gymnasium with two high school regulation courts. And the rock climbing wall, a ropes course, and a performing arts center.
Located in the Uphams Corner section of Dorchester and hailed as a jewel, the $115 million center was formally opened with great fanfare on Saturday.
"The dream has been realized," Mayor Tom Menino told a crowd assembled for the opening ceremony. Menino played a key role in assembling a fundraising team that raised millions of dollars to help buttress the much larger sum donated by the Kroc family to build the center.
But the Kroc Center remains somewhat of a work-in-progress. Political and community leaders are still working behind-the-scenes with Salvation Army officials, who operate the center, to ensure that local residents and families can afford the membership rates the center is asking— fees that some say are too high.
"Anybody who knows the Salvation Army knows we will serve people from all economic backgrounds," said Major William Bode, divisional commander for the organization in Massachusetts. "We have programs in place that will allow young people, teenagers, and adults to come into the Kroc Center."
Thirty percent of people who have joined as members have received financial aid, and the center is working on arranging free programs for young children and troubled teenagers, he said.
John Barros, an early and key supporter of the project and executive director of the Dudley Neighborhood Initiative, said he and others are taking a hard look at membership fees.
"The place is a first class center. I haven't walked into any center, frankly anywhere, that's better than this center," Barros said, adding that neighborhood residents were hired for the construction of the building, and many from the community are working on the center's staff. "It really is an amazing facility."
But Barros did not attend Saturday's ribbon-cutting ceremony, an absence he chalked up to a scheduling conflict. When pressed, he said, "I just wasn't able to make it."
Gov. Deval Patrick was also expected to attend, but at the last minute sent word he wasn't coming, due to what aides said was a scheduling conflict.
During his speech, Menino made several references that appeared to allude to the pricing structure of the membership, according to attendees.
Menino told the Reporter yesterday that the center was in a "fabulous location." Asked if the membership pricing need to be modified, Menino said he has asked to see a list of them. "I want to make sure it's accessible for everybody," he said.
State Rep. Carlos Henriquez, who grew up nearby and has worked closely with Barros at DSNI, said he too was concerned.
"We need some tweaks about how they're marketing general memberships," he said after the ceremony.
According to the Salvation Army, some of the membership rates, not counting financial aid and certain discounts, include $85 a month for a family of five, $70 for a family of four, $40 a month for senior citizens, $15 to $17 a month for teenagers, and a college rate of $20 a month. Separately, a family of five can come in and use the facility for $15 for a single day.
"In general, I think that's too much for some of our low-income families in the neighborhood," Barros said.
Bode insists that the doors of the center will be open to all.
"All they need to do is come to the Salvation Army and say, 'We need help,' " he said to the Reporter, adding that discounts and financial aid are available to reduce the rates for using the facility, which has been open for a month. "We're still mapping out all of our strategies," he said, noting the facility is brand new.
Bode said the Salvation Army did studies and had a focus group that showed the costs were "certainly not outrageous when you consider what we have" and that financial aid would be available. "We constantly are evaluating where we are and what the needs of the community are," he said.
Addressing community concerns that some immigrants and others may be skittish about filling out the paperwork necessary for the financial aid, Bode said, "We're happy to help them." He pointed to the Salvation Army serving thousands of people similarly during the Christmas season.
The Salvation Army is also planning to open an after-school program for 200 children a day, known as F.E.A.S.T. (Food Education Activity Spirituality and Training). The program, which is starting at one to two days a week and will eventually expand to four, carries no charge and allows students to get help with homework, have a snack and also access to arts and crafts.
Another free program, "Bridging the Gap," will focus on teenagers who have had run-ins with police or truant officers.
"Those that graduate will be given an opportunity to have a free membership for a year," Bode said.