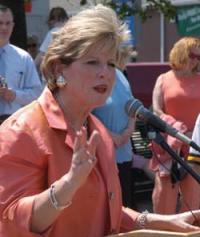 The end came quickly and abruptly: Maureen Feeney finished her tenure as the District 3 city councilor last Thursday, tendering her resignation some 48 hours after voters had chosen her successor, Frank Baker. While the seat is vacant, the office will remain open until the end of the year, her staff said.
Feeney was out of town earlier this week when news broke of her decision, which surprised former colleagues and constituents. When she announced in April that she would not run again for the Council, she said she would serve out the rest of her term. Feeney won the seat on the 13-member City Council in 1993, replacing James Byrne as the District 3 councillor. She had previously served as his chief of staff.
For years, one of the worst-kept secrets within the walls of City Hall has been that Feeney is keenly interested in the largely administrative job of city clerk, a post currently held by former City Councillor Rosaria Salerno. For Feeney, it would boost her annual salary to over $100,000, from the $87,500 a year she made as a councillor. That salary does not include extra money the clerk makes from handling marriages.
Salerno has told City Council members she wants to step down in February 2012 and appears to be sticking to that decision. The City Council, which appoints the clerk, took a pass on reappointing Salerno to a three-year term in 2010, an unusual situation that has left Salerno in limbo; as an "at-will" employee, she could be let go at any time without cause and be replaced by Feeney.
Feeney must be out office for 30 days before she can take the job, due to a state conflict-of-interest law. With her resignation having taken effect on Nov. 10, her former colleagues will be able to place Feeney in the role at the last City Council meeting of the year in December, if they are willing to jettison Salerno.
Some argue Feeney's appointment should not necessarily be a fait accompli. Sam Tyler, head of the Boston Municipal Research Bureau, an agency that monitors city spending, said the Council should solicit other resumes. "It should be an open process," he said. "It also helps whoever is selected because it comes out of a competitive process."
But he added that Feeney would be a "very strong candidate" because of her "unique expertise and experience." Tyler cited her efforts in helping create Boston Medical Center, which resulted from the merger of two hospitals, and her tenure as City Council president.
Feeney frequently won reelection by wide margins and served as president, a ceremonial position, for two terms. She was widely praised for instituting a term limit of two years for the presidency, removing some of the acrimony that often accompanied battles over the position.
Although her departure leaves the district without a elected councillor for a month and a half, councillor-elect Frank Baker said he wants "the people of District 3 to know that they will not go without representation at City Hall in her absence."
In a statement in response to news reports announcing Feeney's departure, Baker said that he and his team are "taking immediate steps to ensure that your voices, concerns, and needs are heard." He added that he would be reaching out to councillors to ask about upcoming major issues and that he will extend the lease of his Savin Hill Avenue campaign office, which will function as a temporary district office.
Baker, a former city employee who lives in Savin Hill, won the Nov. 8 election, beating back John O'Toole, a former Cedar Grove Civic Association head who had Feeney's ardent support. Baker is expected to be sworn into the job in January, though in his statement he said that if he is informed by city officials that he should be sworn in earlier, "I will do so."