By Alex Owens, Special to the Reporter
November 24, 2010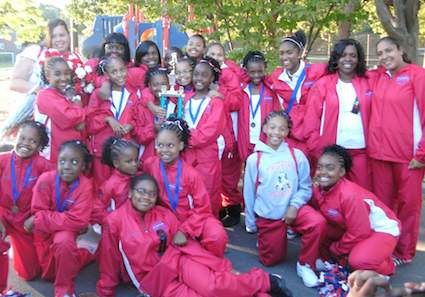 Mattapan Patriots Cheerleaders: Bound for national competition— hopefully.
Pop Warner's Mattapan Patriots Cheerleading team has qualified for the Pop Warner National Cheer & Dance Championships held at the Wide World of Sports Complex at the Walt Disney World Resort in Orlando, FL. The squad must now raise funds they need to pay for the trip.
The D-Squad cheerleaders placed second in the New England Regional Championships on Saturday, Nov. 20, which consisted of a two-and-a-half minute routine. The placement earned them a spot in the national championship games amidst 500 other cheerleader squads from across the nation. The contest will be will be held from Dec. 6 to Dec. 10 alongside the Pop Warner Super Bowl.
Due to the extremely short notice, the Patriots are frantically attempting to raise money for the 9 cheerleaders, and 3 coaches to attend. Head coach Cathy Poulin estimates that the total cost of attending will be $13,000 to $14,000 with airfare, accommodations, park passes, food and other expenses. Poulin has reached out to media outlets, local business and community organizations to spread awareness and raise funds.
Should the Patriots appear, this will be the first ever championship showing in the history of the organization, for the football team or the cheerleaders.
"This is kind of an underdog story," said Poulin. "Some of these other teams have the facilities that we don't, but our girls have worked hard and succeeded...It would be a shame if they would not be able to see this through."