By Mike Deehan, Contributing Editor
July 16, 2009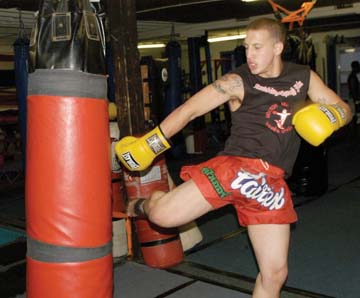 Kickboxing in Uphams: Colin Dwyer, a native of Adams Corner, worked the heavy bag at Boston Muay Thai Academy on Monday. Photo by Mike DeehanTucked in the back of retrofitted factory space and set at the end of a labyrinthine series of hallways and staircases, the Boston Muay Thai Academy in Uphams Corner has been training beginner, amateur and professional fighters the ways of Thai boxing since opening its doors in 2004.
The academy operates six days a week, offering all levels of Muay Thai (literally "Thai boxing") workouts, as well as classes in Brazilian Jiu-Jitsu and traditional boxing. Together, the three disciplines make up the core components of the Mixed Martial Arts sport. Operated by instructors Steve Soriano and Bill Newcomb, the academy hosts training sessions that represent a cross-section of Dorchester residents, with a collection of genders, ethnicities and ability levels training in the traditional Thai martial art.
"Most people don't want confrontation," said Newcomb. "They want to be able to handle themselves if something happens but they don't want to get into anything. Most of our students are like that. They want to be fit and they want to be able to defend themselves."
Newcomb, 40, grew up on Crescent Street in Dorchester, just a few blocks away from the gym, and would walk to UMass Boston for Karate classes throughout his youth. After serving eight years in the Army, Newcomb discovered Thai boxing as a way to take his martial arts skills to the next level. As a corrections officer and former barroom bouncer, Newcomb is an expert in practical self-defense. He trained under his now-partner Seriano and won multiple Muay Thai championships.
Adams Corner native Colin Dwyer has been training with Boston Muay Thai since the gym relocated from Revere to Dorchester about five years ago. He attended Boston Latin High School and is now pursuing a business degree at St. John's University in New York, but he makes time to come back to Boston for training.
"I came here and I really liked the people and I just I fell in love with this place. I couldn't bring myself to leave," said Dwyer. He believes that the sport offers an outlet for aggression that leaves the fighter more disciplined, confident and prepared for life than they would be otherwise.
"Anything you can spend time doing [to] stay off the streets and stay out of trouble," is positive, said Dwyer, "Whether it be this or something else."
Along with two other Boston Muay Thai fighters, Mike Pennini and Jake Mainini, Dwyer recently returned from Thailand where he competed in his first professional fight after three years of amateur competition. The hometown school means so much to him, Dwyer hopes to finish college and come to work as a trainer at the gym.
Muay Thai training is intense at any level. Students are put through a series of exercises for both physical and mental improvement. A regimen of traditional calisthenics, push ups, punching bag training and other exercises is regulated by a bell system then prompts the trainers to move the students on to the next activity.
The main attraction, though, is one-on-one training sessions with the instructors or the more experienced fighters. Students spar while receiving commands and instructions from their trainer, which instills in the student the quick reflexes needed in combat. All students, whether interested in professional fighting, self defense, or just getting in shape, learn fighting techniques.
"Its tough to start," said Keith O'Brien, an Irish-born student in his third month of training. "When you miss days it gets hard so if you can go consistently it just gets better," O'Brien said.