The communities of Dorchester and Roxbury came together Monday for the groundbreaking of a new community center that neighborhood residents and city officials hope will be a hub of services for the two populations, providing recreation and educational opportunities for a large cross-section of the local community.
"Its the rebirth of Dudley," said Mayor Thomas Menino before the ceremonial groundbreaking for the center. "I think it's so important that we have this here. The Kroc Center, the Salvation Army, the City of Boston all working together to make life a little bit better for the people in our city."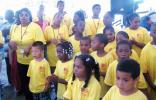 A choir of neighborhood residents performs for the crowd prior to the groundbreaking of the new Kroc Community Center on Dudley Street.
The center is bankrolled by a number of donors, both local and national. Major funding for the 6.5-acre project comes from a portion of a $1.5 billion grant left to the Salvation Army by Joan Kroc, widow of the McDonald's magnate Ray Kroc.
"This is truly a dream come true for the people of Boston and specifically the people of Dorchester and Roxbury," said Dudley Street Initiative Executive Director John Barros in a speech to the several hundred people gathered for the ceremony.
A children's choir sang joyous spiritual songs as corporate managers, Salvation Army leaders, and government officials congratulated each other on their fundraising efforts and praised the commitment of all involved. The Salvation Army band was on hand to entertain a crowd excited to see such a concentration of hope and potential in an area that has gone too long without.
"A sense of progress is being made in a community where the struggle has been going on for many, many years," said Roxbury City Councillor Chuck Turner. "In decades to come the community will be able to look back at this day as the as the start of, in many ways, as the start of a new era."
Construction is expected to be completed within 18 months, a schedule that caused some good-natured ribbing of attendee John Fish, head of Suffolk Construction, the firm charged with building the massive new center.
"It's a great commitment by the Kroc family: $80 million here and in Roxbury and with the money we raised privately, the matching funds, it shows a real commitment by the community at large to make this happen," said Menino.
When she died 2004, Joan Kroc left much of her enormous estate to the Salvation Army to establish centers like this one around the country.
Kroc "dreamed the dreams of young people with great potential to be realized far above thier own expectations," said Salvation Army Territorial Commander Commissioner Lawrence Moretz. "She began to develop in her heart and mind the concept of these 'lighthouses of hope' and faith and prosperity for those who otherwise may be forgotten," said Moretz.