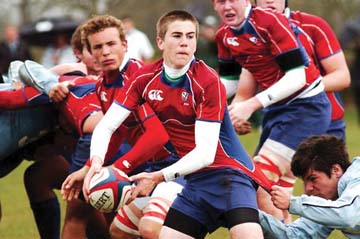 Mike Durant: Savin Hill resident and BC High junior plays on USA's under 17 rugby team.Mike Durant's got a healthy dose of rugby in his blood. His grandfather — the legendary Dr. Thomas Durant of Melville Avenue— played well into his 70s. His brother, two sisters, his mom and dad and uncle have excelled in the rough-and-tumble sport.
But, only Mike Durant — at the ripe old age of 16 — can say that he's represented his country on the field of battle. Durant recently returned from international competition in England, where the US under-17 team showed their European counterparts that their late-blooming American cousins are quickly earning their stripes in the rugby world.
In non-tournament play, they bested some of the best players in South West England. Despite a first-round tournament loss to cross-border rivals Canada, the U.S. lads pummeled Belguim and gave mighty France a huge scare. Mike Durant, according to U.S. Head Coach Sean O'Leary, was a big reason for the American team's success in this two-week tour of duty.
"I scouted 6,000 players and Mike was picked as one of 26," said O'Leary, who is the head coach at the University of Notre Dame in Indiana. "Mike was actually the only one from New England."
O'Leary, who knew Durant's father Steve as a player for the Boston Wolfehounds club for many years, knew of Mike's potential— but was stunned to see the player he has become at Boston College High School.
"I'd seen him a number of years ago at BC High as a freshman. He always had the skills and had to grow into his body. His level of maturity, now… By time they finished this tour, they were young men."
O'Leary calls Durant a "quiet leader" who inspires his teammates with a physical style that takes opponents off guard. As the #9 scrum half, Durant plays an integral position in the American line-up—handling the ball and often leading the defense.
"Mike takes no [stuff] from anybody," O'Leary observes. "The French were really rattled. In all the age grades, their men's teams should be 50 points better than us across the board. But, they were lucky to get out of there alive."
Durant, O'Leary recalls, set the tone when one bigger French player tried to man-handle him, but took a Durant forearm straight to the jaw before he knew what hit him.
"It's not dirty play, it's just, 'I'm not backing down from you.' When your bigger guys see that, they get fired up and bring it too."
While Durant and company may have been bruisers on the field, O'Leary says that the Americans received nothing but compliments about the boys' behavior while in England.
"Mike was a leader of that," said O'Leary. "All we heard was, 'This is the best group we've ever had. This was the most special group of the few years we've been doing this. They understood what it meant to put that jersey on."
Young Mike Durant agrees.
"To play for your country and know all the other kids could be in your spot and they weren't, made it special," Durant told the Reporter.
Mike grew up playing Dorchester Youth Hockey and Savin Hill Baseball — and has played football, rugby and hockey at BC High. Now a junior, Durant is focused on rugby and football — and his boosters see a collegiate career on the horizon.
"I'd love to have him at Notre Dame," says Coach O'Leary. "Mikey has real potential."
To his credit, Durant says he hasn't mapped out his future just yet. He's enjoying his high school days and the sport that his granddad loved so well.
"It's a team game," he says. "Everyone has to contribute. I like how I have to control some of my players, set up scores and pass the ball a lot, but also get to run with it."