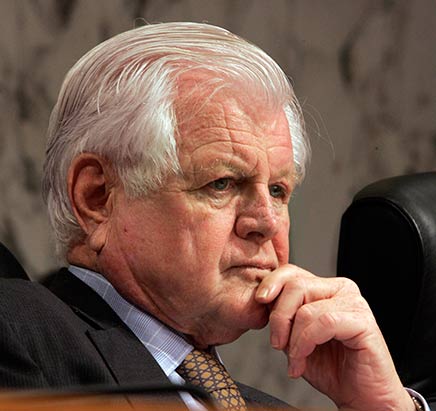 U.S. Senator Edward Moore Kennedy, (1932-2009) Photo (May 2008) by Susan Walsh, Associated Press
Long lines of persons gathered outside the JFK Library Thursday afternoon and long into the night, waiting in to pay final respects to a beloved Senator. Motorists are cautioned to expect some traffic delays in Dorchester's Columbia Point neighborhood in the vicinity of the JFK Library all day Friday and Saturday morning this week, due to the death of Senator Edward Kennedy. Sen. Kennedy lies in repose at the John F. Kennedy Presidential Library and Museum. Throughout the day and night, a civilian honor guard of family, friends, and current and former staff was joined by a military honor guard, in solemn tribute to the fallen leader.
Visiting hours for the public continue on Friday until 3:00 p.m. Public wishing to sign the condolence books can do so when the Library re-opens on Saturday at 10:30 a.m.
Parking and Transportation
The Public is encouraged to use public transportation to the Kennedy Presidential Library. Special shuttle service will be available from the JFK/UMass T Stop on the MBTA Red Line from 6:00 p.m. to 11:00 p.m. on Thursday and from 8:00 a.m. to 3:00 p.m. on Friday.
Free Satellite Parking will also be available at the Bayside Expo Center from 8:00 a.m. to 3:00 p.m. on Friday. Special shuttle service will be available for those parking at the Bayside Expo Center to the Kennedy Presidential Library. There will be no parking available to the public at the Kennedy Presidential Library and Museum.
Thursday Motorcade Route to Boston
On Thursday, the hearse bearing Senator Kennedy traveled from Hyannisport to Boston on Route 3 North to the Southeast Expressway, Route 93 North into Boston. The cortege exited at Government Center, and travel down Hanover Street into the North End, past St. Stephen's Church, where his mother Rose was baptized and her funeral mass celebrated.
After brief travels through the North End and Beacon Hill, the motorcade tarevled through South Boston and Dorchester, arriving at the JFK for Sen. Kennedy's final visit shortly after 4 p.m. Thursday. The Senator will lie in repose until Saturday morning, and a funeral procession will travel to Mission Church in Roxbury for a final requiem mass. A wide array of dignitaries are expected to be in attendance, including President Obama, who will deliver a eulogy, and three living former presidents: Carter, Clinton,and Bush 43.
After the Mass, there will be a motorcade to Logan Airport and on to Washington, then to Arlington National Cemetery where Kennedy will be layed to rest next to his brothers at the military burial ground where some of the nation's most revered leaders are buried.
Tribute areas to honor the senator have been set up at the JFK Library, the JFK Museum in Hyannis, and at his office in Washington D.C. at No. 317 in the Russell Senate Building.
In lieu of flowers, the family has requested donations be made to educational programming at the Edward M. Kennedy Institute for the United States Senate. A website has been set up in memory of Kennedy where people can post their memories.
For more information, visit these websites.www.tedkennedy.org, www.kennedyinstitute.org