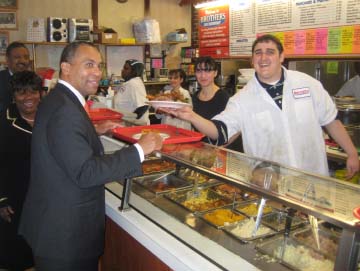 Gov. Deval Patrick visits Brother'sGovernor Deval Patrick spent Tuesday morning along Blue Hill Avenue, criss-crossing Dorchester and Mattapan as part of an informal "listening" tour. The guv lunched at Brother's Deli Restaurant in Mattapan Square, where the Reporter caught up with him. Patrick enjoyed a "prodigious" serving of beef ribs, rice and beans and collard greens and caught up with local merchants and constituents for about an hour.
The governor began his day in Grove Hall, giving an interview on the low-powered radio station Touch 106.1FM. He also stopped by a meeting of the Black Ministerial Alliance at Jubilee Christian Church and visited Echo Evangelique, a Haitian radio outlet in Mattapan Square.
"The best part of my job is the time I spend with people outside the office, hearing about how what we're trying to do connects up with how people are living their lives," Patrick said.
"Now I'm going to waddle on back to Beacon Hill," Patrick joked.