One proclaims he'll be a "Dot Rat" for life. Another notes he purchased the house he grew up in near Grove Hall. And another just moved in from the Back Bay part of Boston. Almost lost among the number and diversity of candidates running for City Council At-Large is the fact that nearly half of the fifteen live in Dorchester.
Seven of the city-wide candidates live in the city's largest community, clearly the largest field of Dot residents in any recent election. They include Ego Ezedi, former executive director of the Roxbury YMCA; Robert Fortes, who works for the MBTA; local community activist Tito Jackson; fellow activist Hiep Quoc Nguyen; Ayanna Pressley, former aide to U.S. Sen. John Kerry; Jean-Claude Sanon, a Haitian-American activist and radio host, and Bill Trabucco, a Boston EMT.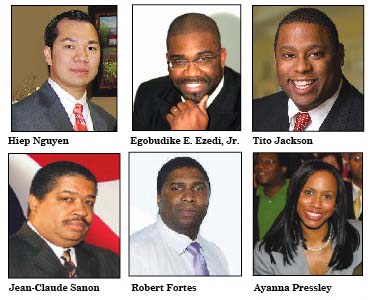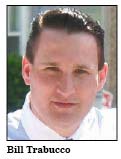 "Dorchester has always been a hotbed of political activists," said Judy Meredith, a Beacon Hill lobbyist and longtime political player in Ward 15. "So many earned their bones in Dorchester."
The opening of two seats -- thanks to City Councillors At-Large Sam Yoon, who lives Fields Corner, and Michael Flaherty from South Boston challenging Mayor Thomas Menino -- has also drawn candidates from other areas like Jamaica Plain and Hyde Park.
Candidates from South Boston, not so much anymore.
"It used to be a powerhouse," Menino told neighborhood reporters in a sit-down this week when asked about the lack of candidates from South Boston. "But Southie has changed a lot. Southie and Dorchester have really changed a lot."
Dorchester dominates this time around, a testament to it being the largest and most diverse part of Boston, and a section that has also seen an increased influx of young professionals. Indeed, five of the candidates from Dorchester -- Ezedi, Jackson, Pressley, Fortes and Sanon -- are black and another is Vietnamese.
Jackson, who works in the Executive Office of Housing and Economic Development and went to college in New Hampshire, said he bought the house he grew up in on Schuyler St. in Grove Hall. "I live exactly where I grew up," he said. "My roots are here."
Jackson said he is seeking to reinvest in the community through public service and added that he will push to have more Boston residents on construction jobs.
"My objective is not to be the candidate from Dorchester; my objective to tear down the walls between communities," he said.
Ezedi, a minister at Morning Star Baptist Church in Mattapan, also touts his upbringing in Dorchester, and notes that the house he owns on Ashmont St. was once owned by Larry DiCara, a former city councillor.
"There's the spirit of politics in the house," he said.
His wife is from Dorchester and he's raising their daughter here in Dorchester, Ezedi added.
"I'm going to be a Dot Rat for life," he said.
Ezedi last ran against City Councillor Charles Yancey in 2003, for the District 4 seat.
"There are more voters in Dorchester than any other part of the city," he said, adding, "Dorchester is my base."
Trabucco is another life-long Dorchester resident. "I've been in the 02125 zip code for 41 years," he said. He lives on Rawson St. with his wife, dog and four cats. He reflected on his financially hard upbringing, losing his father at an early age in the working-class neighborhood.
"It's more diverse, recently," he said. "I think Dorchester reflects Jamaica Plain, Mission Hill and the South End. I don't think anyone assumes to have a majority presence anymore."
The newest to Dorchester is Pressley, who has lived in the Fenway area, the South End, Roxbury, and most recently, Back Bay. She is originally from Chicago.
Pressley moved to Dorchester at the end of November, buying a residence on Dorchester Ave. She said she chose the neighborhood because "everyone I have ever met from Dorchester has immense pride."
According to a survey of local political hands, no candidate has a lock on Dorchester.
"Each of these people has a little core of supporters," Meredith said. "I couldn't pick out one Dorchester person." (She's supporting Felix Arroyo, son of the former city councilor, who lives in Jamaica Plain.)
Of Nguyen, who reflects the newest tide of immigrants, the Vietnamese, Meredith said he's "interesting to watch. "He's working hard," she said.
Nguyen arrived in Boston in 1991 when he was eight, and at forums, has noted he is a certified public accountant equipped to deal with the city's budget. A resident of Roseland St., he attended St. William's Grammar School in Savin Hill and Boston Latin Academy. He is considered to be the first Vietnamese-American to mount a run for city council.
A resident of Redford St. in Mattapan, Sanon was born in Haiti and has lived in Boston since 1975. He has worked in radio and as a legal assistant. He moved to Mattapan in 2007, having also lived in Milton, Boston proper and Norwood.
Fortes, an MBTA executive, lives on Mount Everett St. This is his second bid for office. He ran for an open seat in the House of Representatives in a 1999 special election. The Fifth Suffolk seat he sought was won by Marie St. Fleur.
Nguyen, along with Sanon and Fortes could not be reached for comment for this article.
Meredith noted that Ezedi has the unsuccessful campaign against Yancey under his belt, and Pressley has "star quality."
Jackson comes from a political family, she added. His father, Herbert, was also a community activist, and his cousin, Ron Bell, works in the governor's office after his time as a voting rights advocate and deputy campaign manager for Gov. Deval Patrick's 2006 campaign.
Philip Carver, head of the Pope's Hill Neighborhood Association, also pointed to Ezedi's work outside of Dorchester. "I think they have an uphill battle to show what they stand for," he added of all the candidates.
The boundaries of a community are not as important as they once were, given the Internet and email, he said. "People should look beyond the street address," he said, pointing to incumbent City Councillor At-Large John Connolly, who lives in West Roxbury. Others note that Tomas Gonzales, who lives in Hyde Park, lived in Dorchester in his youth and worked as a lifeguard at the Marr Clubhouse in Savin Hill and has kids in Dorchester public schools — connections he has been quick to make on the local trail.
But historically, Dorchester has always had at-large representation on the city council.
"We make up about a third of the city," noted state Rep. Marty Walsh, a Savin Hill Democrat. And with Yoon, who has a "strong Dorchester base," eyeing the top slot at City Hall, political geography has also come into play, he said.
But, he added, candidates have to promote themselves heavily this time around. "This is going to be truly a name-recognition race," he said.
Yoon said the number of candidates from Dorchester was "fantastic." "Having a field of candidates from Dorchester, fighting for the concerns of my neighborhood, is a really good thing," he said.
Asked what advice he would give if any of them are elected, Yoon brought up the classic phrase coined by the late U.S. House Speaker Tip O'Neill, a Massachusetts Democrat: all politics is local.
"You're going to be elected by the city at-large," Yoon said. "You have to balance that with the concerns of your neighbors. The view of the city from our neighborhood differs slightly."
The primary for both mayoral and city council at-large candidates is scheduled for September 22. That election will narrow the field to two candidates for mayor and eight candidates for city council at-large. The final election is slated for November 3.