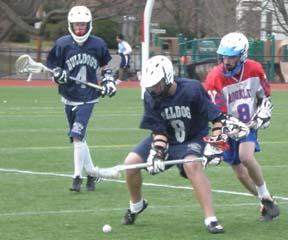 Bulldogs lacrosse, April 4, 2009: The Bulldogs fell to Brookline in their fourth outing of the '09 campaign. Above, Charlie Marshall and Kristian Kirleis fight for a loose ball.The Boston High School Lacrosse Club faced off against the Brookline Warriors in a hard-hitting and action packed match on Saturday, April 4.
The Bulldogs were taking the field for their fourth game in this, their inaugural season. Boston started out slow and fell behind early 2-0, but battled back in the second quarter with 2 impressive and hard fought goals from Gregory Morris and Charlie Marshall.
Brookline stepped up their attack in the second half and took an 8-5 lead over the Bulldogs going into the 4th quarter. But Boston never gave up and continued to push the attack into the Brookline zone with some solid body checking and harassing defense. Boston sharpshooters who found the Warrior net during the second half included Connor Dougherty, Anthony Dowling, (twice), Charlie Marshall, (his 2nd), and Ryan Johnston. Boston also struck the goalpost several times and was stopped on some good rushes by the solid Brookline goaltender.
Other Boston attack men on Saturday included Kevin Sweeney, Alex Sobchuk, and Edward Horan. The Bulldog midfielders included Matthew O'Brien, Joshua Kriesberg, Kristian Kirleis, Michael McDonough, Glennon Montgomery, Kieran Lane, Eric Espinoza, Liam Donovan, and Ryan Keaney. The Boston defensemen were Chris Kelly, Brian Carr, Jamie Banks, Brendan Carr, Raffi Yessayan, Andrew Morris, Kevin Gribaudo and Bobby Vraibel. Brendan Downs stood tall in the Boston goal and made several tough saves that kept the game close. The fierce Bulldog rally eventually ran out of time and Boston ended up on the short end of a 9-7 score.
Boston's newest high school lacrosse team continues to improve and exciting action is anticipated in each of their upcoming matches. The Bulldogs were formed this season through the efforts of Dorchester Youth Lacrosse and Parkway Youth Lacrosse. The team fields players from 6 Boston neighborhoods and 7 different high schools. For schedules, contacts, directions and sponsorship information, visit the "Team News" section of the website at www.parkwaylax.com.