By Seth Daniel, News Editor
January 11, 2023
Members of the Ward 15 Democratic Committee held a winter gathering last Saturday at the First Parish Church Hall to celebrate the new year and bestow awards to long-time Bowdoin-Geneva leaders Davida Andelman and Janet Jones. Unfortunately, medical issues prevented both of them from attending, but the party went on with a hearty ham dinner and a hall full of guests, including Attorney General-elect Andrea Campbell, who accepted the awards on behalf of Andelman and Jones.
Ward 15 Chair Ed Cook noted that Jones has been active in the community for many years and has volunteered in any number of activities during that time.

Ward 15 Chair Ed Cook comments on the Lifetime Achievement Award given to Janet Jones of Ward 15 for her long-time activism.
The Boston Transportation Department (BTD cited Andelman for her extensive work on the Bowdoin Geneva Transportation Action Plan, which is now being implemented. BTD Senior Planner Pat Hoey was in attendance and presented a special award to Andelman for her advocacy.
He recounted that she had an extensive research paper already written when he walked in for the first Bowdoin Geneva meeting. "She had already done all the work for me," he said with a laugh, adding, "that allows partnerships to be forged and working relationships and drives change."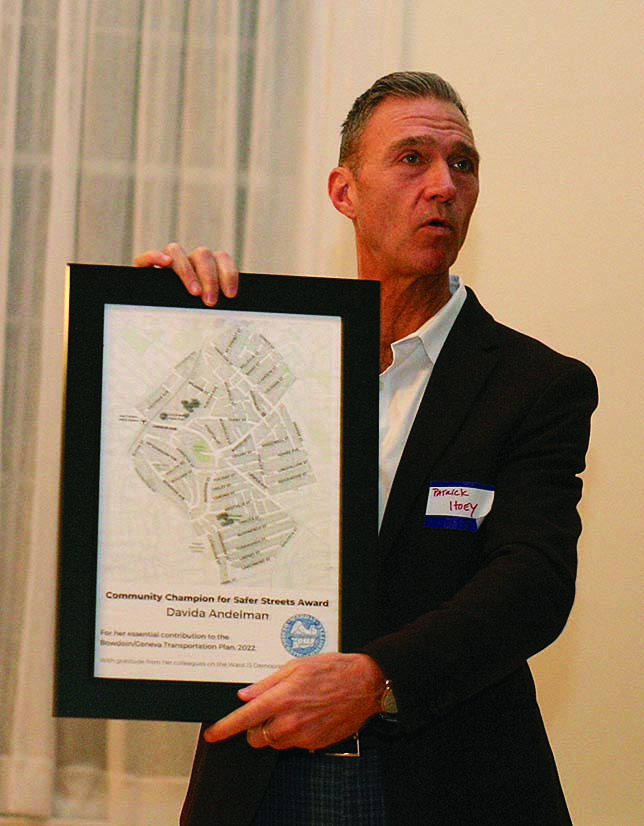 BTD Senior Planner Pat Hoey presented the Community Champion for Safer Streets Award to Ward 15's Davida Andelman. Hoey said Andelman did a tremendous amount of research to help them design the Bowdoin-Geneva Transportation Action Plan in 2022.
Hoey noted that the Bowdoin Geneva plan will be the first time that the BTD will implement speed humps outside of the Slow Streets program.
For her part, Campbell pointed out that it was Jones and Andelman, who, among others, pushed for the traffic improvements when she first became came a city councillor. So, it was full circle for her to be accepting the award for Andelman as the changes were about to be implemented.
Added Cook: "If you think about it, this one person is affecting so many of our lives in this neighborhood. One person can make a difference and Davida really is an example of that."

Kristine Acevedo, Jim Milke, Ward 15 Chair Ed Cook, and Pat Hoey, senior planner at the Boston Transportation Department.

Sean Garren, Will DeKrey, Maureen Hird, Dan Haro and Shirley Jones.

Michael Groves with his children - Idris, Imani, and Jaiden.

Attorney General-elect Andrea Campbell with Ward 15 Chair Ed Cook.

Ward 15's Shirley Jones greets Attorney General-elect Andrea Campbell.

District 4 Councillor Brian Worrell, Abe Ayuso, Johanna Ayuso, Edith Ayuso and State Rep. Chris Worrell.