By Ed Forry, Associate Publisher
May 18, 2022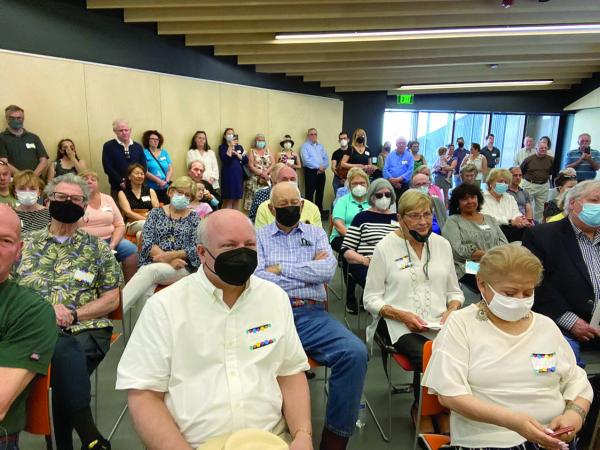 The community room at the new Adams Street branch of the Boston Public Library was filled to overflowing last Saturday (May 14) at a ceremony to dedicate the room in memory of Pat O'Neill, the late president of the Adams Ashmont Neighborhood Association (AANA). O'Neill, who died in 2020 at age 80, was instrumental in the push to bring a new library to this corner of Dorchester.
Saturday's speaking program included current AANA president Cindy Fadden; the president of the Boston Public Library, David Leonard; Pat's friend Patricia MacNeill; former City Councillor Andrea Campbell; and Pat's son Patrick O'Neill.
Gail Ravgiala, Pat's longtime friend and secretary of the AANA, offered poignant remarks about the honoree's dedication to the neighborhood.
"Simply by example, Pat taught me, and a lot of people in this room, how community works and why it is important," said Ravgiala. "It is not a big thing, but a million little things. That was Pat's magic. Community doesn't happen in a day, or at one event. It's a constant, a living thing that needs to be nurtured and cared for. And she never stopped doing that."
Saturday's event was followed by a gathering at one of Pat's favorite Dorchester restaurants, the Ashmont Grill.