By Seth Daniel and Gintautas Dumcius, Reporter Editors
August 31, 2022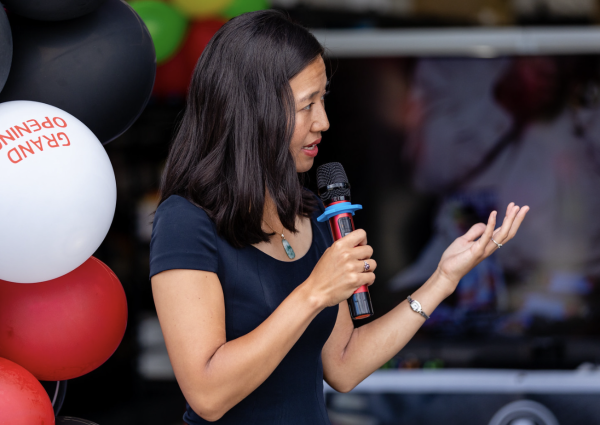 Mayor Michelle Wu on Wednesday withdrew her endorsement of District Attorney candidate Ricardo Arroyo, following a new report in the Boston Globe about sexual misconduct allegations from 2005. Arroyo, a Hyde Park city councillor, continued to deny the allegations and is seeking court action that he said would exonerate him.
Wu's statement appeared to open the floodgates for other withdrawals of support, including Congresswoman Ayanna Pressley, City Councillor At-Large Ruthzee Louijeune and state Rep. Jon Santiago. Sens. Elizabeth Warren and Ed Markey quickly put out a joint statement they too are pulling their endorsement of Arroyo.
"The allegations by someone who was a minor at the time are deeply troubling to me, as is newly reported information on anonymous threats she received in the past," Wu said in her statement. "I can no longer make a public recommendation for a candidate for this office."
Wu added that the statement should not be taken as an endorsement of Arroyo's opponent, the interim DA Kevin Hayden. "I continue to have serious concerns about Mr. Hayden's judgment in prosecuting cases, his handling of media scrutiny of pending cases and his conduct in office," she wrote. "I have great respect for our democratic system and trust that each voter will make this choice using their best judgment. Whoever is elected will have significant work to restore the trust of our residents."
After an initial Boston Globe story on the Arroyo allegations last week, Wu hesitated to withdraw her endorsement, telling the Reporter she would "wait and see how the story evolves."
For his part, Arroyo remained steadfast in saying the allegations against him were false and that "truth" would prevail. He noted that through an attorney he has sought legal remedies in Suffolk Superior Court to get access to case files that he said would exonerate him.
"I believe in truth and I want the facts to be public and for people to see the determination made by law enforcement in this matter," he wrote in his own statement Wednesday.
The Boston Globe reported Tuesday night about one of Arroyo's accusers from 2005 coming forward to verify that all the allegations made at the time were true. The woman, who was not named in the story, said she could not let the moment go forward without stepping forward and telling her story. The Globe quoted her and provided threatening, though anonymous, e-mails sent to her in that time period, when they were both juniors in high school at the John D. O'Bryant High School, that she said came from Arroyo.
Arroyo said he is seeking legal action in Suffolk Superior Court to get access to investigation files that would exonerate him.
"These allegations from when I was a junior in high school were investigated and led to no charges being filed," he wrote in a statement on Wednesday. "As I have maintained from the beginning, I have never, as a minor or ever, sexually assaulted anyone."
He also wrote that there was a written determination by law enforcement at the time "that stated the allegations were unfounded." He added that if he gets access to those case files, it will prove that the claims were "unfounded."
Last week, after the first story appeared in the Globe, Council President Ed Flynn withdrew his endorsement of Arroyo, and this week moved to suspend his Council vice presidency and committee chairmanships for 60 days. Ironworkers Local 7 and former Congressman Joe Kennedy III also withdrew their endorsements of Arroyo for DA at the same time as President Flynn.
Before the endorsement withdrawals began on Wednesday, Hayden slammed Arroyo's supporters, saying they "enabled" him by continuing to "stand by him, giving his lies, refusal to answer questions, and attempts to distract from these troubling allegations a false sense of legitimacy."
Hayden was also the subject of a Globe investigation earlier this month. Reporters laid out allegations that raised questions about Hayden handling a case of alleged misconduct by Transit Police.
In her Twitter statement on Wednesday, Wu continued to question the way the Arroyo allegations leaked out, as she had after the initial Globe story on Arroyo.
"The timing of the release and the fact that some documents were purposely withheld suggest this was a politically motivated leak, which is relevant because the Suffolk County District Attorney's office conducted their own investigations, has their own set of these files, and also made the determination to close the cases over 15 years ago with a finding by their office that no crime had been committed," she wrote.
The endorsement withdrawals kept coming throughout Wednesday morning. UNITE HERE Local 26, the hospitality workers union, cited the Globe's reporting in its pullback.
State Sen. Sal DiDomenico, who represents Allston-Brighton, Cambridge, Chelsea, and Everett, told the Reporter he also pulled back his support Arroyo. "These accusations are very serious and after hearing the statements from the victim I can no longer support him for DA of Suffolk County," he said.
State Sen. Sonia Chang-Diaz of Jamaica Plain, who gave up her seat this year to unsuccessfully run for governor, also withdrew her endorsement.
The collapse in political support for Arroyo occurred ahead of Wednesday's previously scheduled City Council meeting, which descended into bouts of shouting and councillors speaking over reach other. Dorchester Councillor Frank Baker, a Hayden supporter, filed a demand for a subpoena of records detailing the Arroyo allegations, while Jamaica Plain Councillor Kendra Lara, an Arroyo supporter, filed a similar demand for records detailing Baker's 1993 conviction for marijuana possession.
Baker, who was elected in 2011, called Lara's move an "act of retaliation," adding, "I've always been upfront about the paths I've took."
Lara denied the charge and said she filed her demand to illustrate that people of color on the 13-member City Council are held to higher standards and disciplined in harsher ways, an apparent reference to Flynn stripping Arroyo of his chairmanships. She withdrew her demand after Baker withdrew his.
Baker pointed to Tuesday night's Globe story as the reason for dropping his demand for records. But, he added as a sign-off to his remarks, he'd be willing to bring it up again."If a predator continues to roam, the killing field only becomes larger," he said, causing shouts and murmurs to resume within the Council Chambers.
This is a developing story with multiple updates.