By Gintautas Dumcius, Managing Editor
July 25, 2022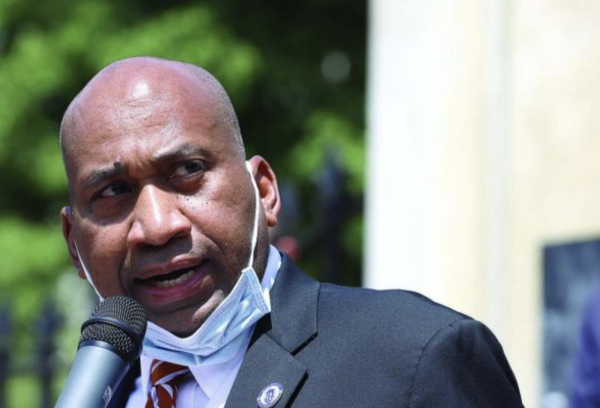 State Rep. Nika Elugardo, one of several candidates vying for the Second Suffolk Senate seat, on Monday touted a new list of endorsements, including members of the Arroyo family and state Rep. Russell Holmes of Mattapan.
"Nika has worked with business leaders, particularly with our Main Streets organizations to meet their hiring needs and to employ local youth and young adults, especially those living in public and affordable housing," Holmes said in a statement.
District Councillor Ricardo Arroyo of Hyde Park and his father Felix D. Arroyo, the Suffolk County Register of Probate, were also on the list of endorsers. Councillor Arroyo is running for Suffolk County District Attorney, up against interim DA Kevin Hayden.
Councillor Arroyo called Elugardo an "always reliable and committed ally in the fight for true justice" while Arroyo the register of probate called her a "eader who operates in love, in wisdom, and in power."
The other candidates for the Second Suffolk District, which was redrawn by state legislators last year as part of the redistricting process, include pastor Miniard Culpepper, state Rep. Liz Miranda and former state Sen. Dianne Wilkerson. The district runs through Roxbury, Dorchester, Mattapan, and also includes Mission Hill and Jamaica Plain.
The Democratic primary is set for Tuesday, Sept. 6.
Others included on Elugardo's list of endorsers included:
José C. Massó III, a former teacher who has worked for Massport and the MBTA
Dr. Atyia Martin, former chief resilience officer for the city of Boston
Marcia Kimm, former HR specialist with the Federal Reserve
Mimi Turchinetz, former District 5 candidate
"I am honored to stand shoulder to shoulder with them in the transformational justice movement that is brewing powerfully in Boston," Elugardo said in her own statement.
Elugardo recently picked up the endorsement from a number of Roxbury political figures, including former City Councillor Tito Jackson and former acting mayor Kim Janey. She also has the support of Mel King, a former mayoral candidate and activist, as well as well as the Massachusetts Teachers Association and the Jamaica Plain Progressives.