By Katie Lannan, State House News Service
March 31, 2021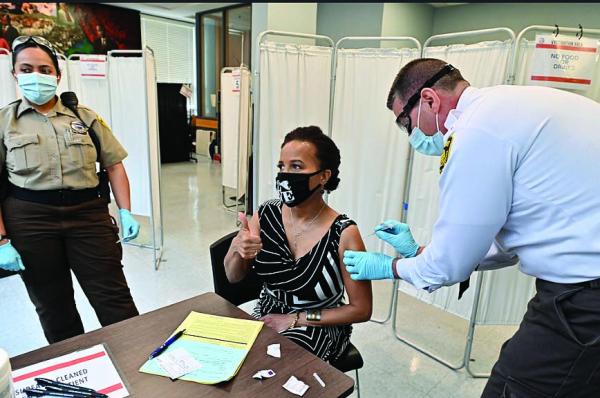 After volunteering at a Covid-19 vaccine clinic at a Boston Housing Authority site last Friday morning, the city's new mayor rolled up her sleeves and got the shot herself.
"I'm choosing to get it because vaccination is an important tool to protect ourselves, to protect our communities and all those that we love, and to help stop the pandemic," Mayor Janey said.
She added, "I am trusting the data, I am trusting the science, and I want to lead by example for anyone who still has questions or hesitancy around the vaccine."
Janey, who transitioned from city council president to acting mayor a week ago Monday when Marty Walsh resigned following his confirmation as U.S. labor secretary, said she was eligible for the shot as a vaccine-site volunteer. She said she and her staff have been volunteering for the past few weeks at the Martin Luther King Towers vaccination clinic, where they've been "knocking on doors, talking to residents, and assisting with appointments."
"Many residents are eager to receive the vaccination," she said. "Others have questions and want more information."
On Friday, Janey announced a $1.5 million vaccine equity grant program that will support non-profit organizations that work to break down barriers to vaccine access for Bostonians disproportionately impacted by Covid. She said she plans to announce awardees in mid-April and that the funding will support in-person outreach to help people get appointments, public awareness efforts that build confidence in vaccines, and supports like transportation and language interpretation.
"As we begin a new chapter in our city, we are inviting new partners to the table in our fight against Covid," Janey said. "While all partnerships will be considered, the vaccine equity grant initiative will prioritize partnerships or organizations that have not previously been fully engaged in this work."