By Katie Trojano, Reporter Staff
February 17, 2021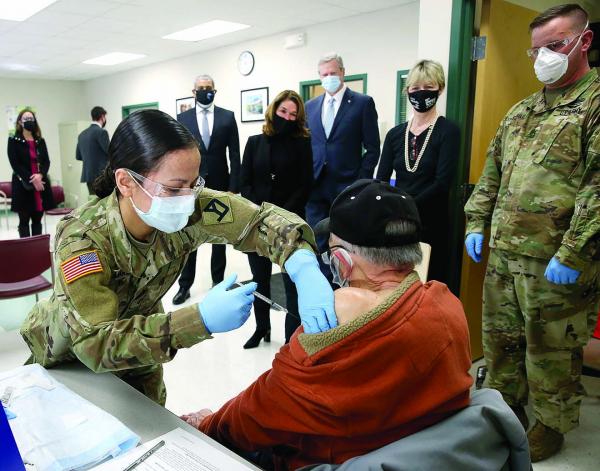 With the state's Covid-19 vaccine rollout showing signs of improvement, the whirlwind of news surrounding pandemic issues continued unabated into this week locally and across the state.
Vaccination sites spent the past week driving up the percentage of total doses received and administered. The state Department of Public Health on Monday afternoon reported that 75.2 percent of vaccines shipped had been administered - 1.14 million doses out of 1.52 million. The agency also noted that the number of people who are fully vaccinated is approaching 300,000, and the number of people in the state of Massachusetts who had received their first dose is nearing 850,000.
In an effort that has proved to be problematic, the Baker administration said last week that anyone who accompanies an eligible senior to one of the state's mass vaccination sites can also receive a shot.
Health and Human Services Secretary Marylou Sudders said the new accommodation for trusted family, friends, neighbors, or caregivers to get vaccinated along with vulnerable seniors came after consultation with councils on aging and other advocates for older adults.
It didn't take long for news of strangers calling elderly residents and offering to pay to take them to get a vaccine shot, a result Baker deplored, warning senior citizens not to share their personal information if they are contacted by someone unfamiliar offering to transport them to a mass vaccination site.
Boston City Councillor Andrea Campbell called for the state to rescind the "companion" policy. She had previously urged Baker to lower the age eligibility as well.
"We know the health disparities — Black people, especially Black men, often don't make it to 75," she said. "The state should rescind this policy or limit it to Massachusetts residents 65 and older accompanying, and immediately open up appointments to these other individuals."
Meanwhile, Sudders also noted that some 30 new retail pharmacy sites are opening at CVS and Walgreens locations around the state, and that 30,000 of the new appointments will be at pharmacies.
With Massachusetts now receiving about 108,000 doses of Pfizer and Moderna vaccine a week from the federal government, Sudders said, the state will post 100,000 appointments this week, including 74,000 new appointments that will be added online on Thursday.
At Boston City Hall last week, Mayor Walsh urged Bostonians to seek out weekly tests even as the case load in the city is "heading in the right direction."
"Testing does remain critical even as the vaccine becomes available to more groups," he said. "Get tested once a week if at all possible."
The city continues to collaborate with the state on vaccine rollout, Walsh said, noting that several vaccination sites are up and running in the city, including the Reggie Lewis Center in Roxbury, Fenway Park, multiple sites operated by Community Health Centers, and 8 pharmacy locations. 
Baker: Get vaccine, even if you had Covid

Massachusetts residents should still seek a coronavirus vaccine when they become eligible even if they have previously contracted the highly infectious virus, Gov. Baker said last week. He touted the protection a vaccine can offer against newer strains of the coronavirus that were first identified in other countries and have been spreading in the United States in recent weeks.