By Chris Lovett, Special to the Reporter
March 25, 2021
Marty Walsh served as Boston's mayor for a little more than seven years, a time that unfolded mainly as a dashboard of growth and inclusion, with units of progress, stasis, or lost ground. But in a less granular future, he will be judged more as the mayor who helped the city out of one crisis only to contend with another.
He announced his first candidacy for Mayor of Boston in April 2013, less than two weeks after his predecessor, Tom Menino, whose fifth straight term had been hampered by a series of health problems, made it known he would not seek a sixth. Neither decision was very surprising.
As a state representative and labor leader from Dorchester, Walsh spent years building alliances, navigating through differences of race, neighborhood, and social agenda. With his attention to personal contact and individual needs—including jobs in the building trades and help with recovery, he was groomed as one more exponent of the "retail politics" associated with his most recent predecessors—Menino and Ray Flynn.
Political Template and Personal Contact
Interviewed only a month into his campaign, Walsh defined himself as a political product of the city who started out as a young foot soldier in local campaigns. "Being able to help somebody, a family member, get into detox, give counselling to a parent or something like that," he said, "that means an awful lot to me, and I've done it my whole career. It's what I love, it's my passion. I love helping people. And that's why I'm running for mayor."
At the same time, Walsh praised Menino's role in the resurgence of large-scale development in downtown Boston and the emerging Seaport District, both of which were accompanied by consistently high bond ratings for the city. Vowing to be the "CFO of the City of Boston," Walsh stressed the importance of jobs as the way to raise revenue and solve problems. It was an update of the same growth credo that had held sway in City Hall since 1949, when John B. Hynes defeated James Michael Curley.
Less than three weeks after Menino's announcement, the city was rattled to its core by the bombing near the finish line of the Boston Marathon. It was a blow to Boston's standing as a world-class city, but also something personal for Walsh. One of the victims, eight-year-old Martin Richard, played in the same Little League where Walsh was a coach. A few nights after the bombing, 3,000 people responded with a vigil at Garvey Playground in Dorchester. Walsh was there, looking very much like the same figure stockpiling one-on-one contacts with voters at a polling place or a candidate forum.
Through the rest of 2013, Menino presided over the beginning of recovery – and also summoned the duck boats for another World Series championship celebration. But the Walsh for Mayor campaign signage—matching the colors of the Boston Red Sox—also channeled the spirit of "Boston Strong" that would later be revived in the "One Boston" events on the bombing's anniversary.
Seven years later, with the onset of the Covid-19 pandemic, a mayor used to personal contacting and full-throated gatherings found himself governing as a model of face mask attire and social distancing. When the spread of infections and fatalities overlapped with the national surge of protest over the racial divide exacerbated by the use of force by police, the transition from continuity to change became all the more urgent. As marchers took to the streets in Boston and others across the country – and almost three months after racial disparities were spotlighted by City Councillor Ricardo Arroyo – Walsh declared racism a "public health crisis."
Entrenched Divides, Struggles with Progress
If there was a racial reckoning for Walsh, it would be inaccurate to say it was sudden. Even though his co-finalist in the November 2013 election was a fellow Irish-American, John Connolly, both were pressed to make the cast of city government a closer match for Boston's increasingly diverse population.
In November 2014, as protests raged around the country after a jury refused to indict a white police officer for the killing of Michael Brown in Ferguson, Missouri, Walsh took part—mostly as a listener – in a speak-out at Twelfth Baptist Church in Roxbury. The discussion touched on racial profiling and accountability for the actions of police. Walsh said the problem was also something deeper, which could be understood as acknowledging its seriousness, but also the limited powers of a single mayor.
He did bring racial diversity to positions with high profile in his administration, most visibly with the city's first Asian-American school superintendent and the first African-American police commissioner, but also with cabinet appointments for economic development and health and human services. What changed very little was the disproportionate share of people of color in positions with lower visibility and pay.
Walsh also set more ambitious goals for diversity and the hiring of Boston residents on major construction projects in Boston. But as late as 2020, community advocates were continuing to express frustration with the lack of progress. And metrics for city spending on goods and services continued to show a wide racial gap, even as late as early 2021.
During Walsh's tenure, the dropout rates for the Boston Public Schools showed an overall decline and the high school graduation rate climbed to an all-time high in 2018, only to decline the following year. The lack of overall progress was enough to trigger a heightened threat of intervention from the State Department of Elementary Education, coming less than two months after the newest Boston School Superintendent, Brenda Cassellius, released her five-year strategic plan. She is the fourth superintendent to serve under Walsh, making for the highest turnover rate of that office under any Boston mayor since at least the beginning of the 20th century.
Mayor Walsh used an excavator to ceremonially kick off construction for One Seaport Square on Nov. 14, 2014. Mayor's Office photo by Don Harney
Growth, Displacement, Arrested Development
In his first term, Walsh tried to spur new kinds of growth, even for the hours when Boston's vibrancy could be open for business. The possible selection of Boston for hosting the Olympics in 2024 caused some fleeting euphoria, but even more questions and push-back. Nor did any benefits materialize from an abortive proposal to use parts of the Seaport District for an IndyCar race.
Probably the most impressive growth metric under Walsh was for housing production.
He exceeded the pace in his Boston 2030 plan and even raised the bar in 2018, after expectations were also revised upwards for Boston's population growth.
The 2018 revision set a goal of 69,000 new units by 2030, with 16,000 of them income-restricted, to be made possible by higher linkage contributions from developers and zoning largesse from the city.
A Boston 2030 report cited a modest decline in the cost of renting the city's older housing, but other figures showed some of the most affordable areas were faced with a higher rate of evictions—even before the economic crisis triggered by the pandemic. Along the Fairmount/Indigo rail line—a prime conduit for transit-oriented housing, many residents of Dorchester, Mattapan, and Hyde Park faced displacement or steep increases in rent.
The same population growth that fed the supply of housing and jobs also resulted in more traffic congestion. Walsh oversaw efforts to diversify transportation, with more lanes for bikes and buses. But, after a succession of fare increases on the MBTA, the same population struggling disproportionately squeezed by the housing market struggled with the cost of transportation and, in many cases, substandard service.
Mayor Walsh, surrounded by members of the Boston City Council and Superintendent Brenda Cassellius, announced the district-wide closure of all Boston Public Schools as the Covid-19 pandemic hit the city in March 2020. Isabel Leon/Mayor's Office photo
From Crisis Candidate to Anti-Trump Personage
The first crisis to confront Walsh as mayor was the closing of the Long Island Bridge, with a need to find immediate replacement for the loss of the island's recovery programs and shelter capacity. He responded with new facilities and new gains for transitional housing. But the troubling spectacle of unmet needs around homelessness and drug activity at Massachusetts Avenue and Melnea Cass Boulevard—much of it gravitating to Boston from other communities – remained in place, and, during the pandemic, became even more alarming.
In March 2020, when Boston had suffered only its second death from the pandemic, Walsh brought on the retired four-star general Stanley McChrystal as an emergency consultant for pandemic response. Following severe outbreaks in northern Italy and New York City, there was an intense focus on stopping infections and adding capacity for treatment—even if it meant shutting thousands of people out of work and closing schools.
Pandemic response also meant an extensive relief effort—in some cases building on grassroots efforts and support from business leaders. By January of this year, the "Boston Resiliency Fund" had distributed more than $30 million, mostly for basic needs and help with remote learning, along with support for first responders and healthcare workers. By the city's count, more than half the grants went to organizations headed by women or people of color. Walsh had to simultaneously be a mayor for neighborhoods and downtown, but in a way not foreseen seven years earlier.
The racial disparities in Boston's pandemic figures were dramatic early on, with Blacks accounting for more than 40 percent of the spread almost through the end of April 2020. Though that figure would gradually decrease to less than 25 percent, the number of fatalities remained disproportionately high.
Walsh also had to contend with the division between people who could work or study from home and those who depended on in-person contact for income and education. As he was making his transition to become President Biden's Secretary of Labor, questions about the balance between shutdown and reopening were still being debated, most critically about whether a different mix of leadership and resources could have speeded up reopening of schools, at least for early grades.
As he was looking to another election year in 2021, Walsh could have followed the playbook of Donald Trump: boasting of the economic growth before a pandemic inflicted from outside, or even reinforcing a division between the champions of reopening and proponents of caution. Instead, the mayor cast himself as the anti-Trump, as he had geared up his re-election campaign four years earlier, in 2017.
If Trump claimed to be the one and only person who could restore greatness on a national scale, Walsh cast himself as the city's listener, learner, and problem solver. By approving reforms in police accountability—advanced by his own task force in 2020, but following a push by many other elected officials from Boston—Walsh did invite the question of what might have been accomplished sooner had he been more assertive.
Even if his tenure provided less continuity than expected, he was still Trump's opposite: an agent of change, after all, but not on his own.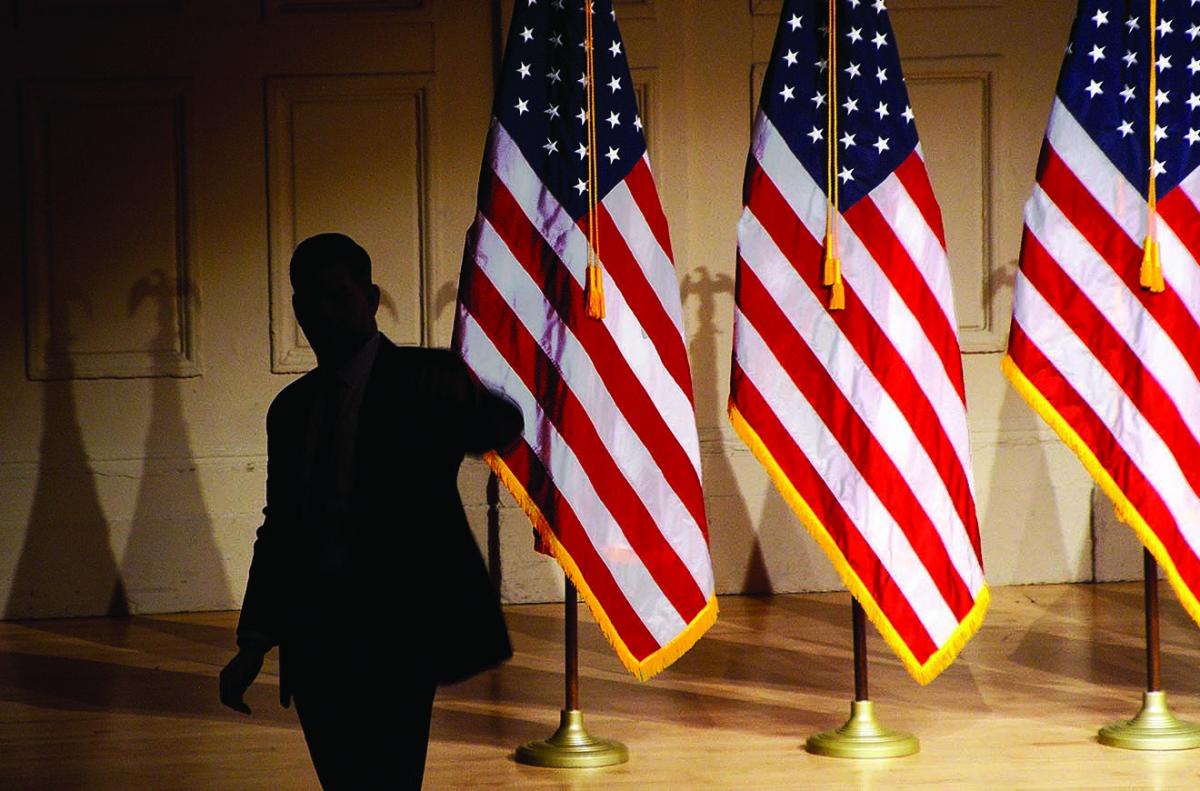 Mayor Walsh exited stage left at Boston's Symphony Hall following one of his State of the City speeches held in the concert venue. Chris Lovett photo