By Bill Forry, Editor
February 17, 2021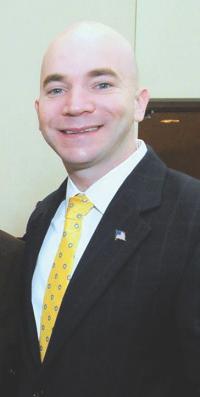 State Rep. Dan Hunt will lead a new House committee charged with scrutinizing the allocation of federal stimulus funds and census data, an appointment that marks the Dorchester Democrat's highest-profile legislative role to date.
A look at other committee assignments for the Dot delegation
It's the first committee chairmanship for Hunt, who was elected in 2014 to replace Mayor Walsh as the representative in the 13th Suffolk district, which includes Neponset, Cedar Grove, Adams Corner, St. Mark's Area, Clam Point, parts of Fields Corner, and one precinct in Quincy.
The selection, announced last Friday by Speaker Ron Mariano, makes Hunt a key player in how state lawmakers approach the distribution of federal relief dollars, vaccine supply, and, eventually, in the reorganization of political districts based on data from the 2020 US Census.
"This is my first chairmanship and obviously I am very excited and I appreciate the faith Speaker Mariano has in me," said Hunt, who will also maintain a role on the House Rules committee, which has been one of his tasks from the last legislative session.
The new panel that Hunt will lead will be tasked with reviewing federal spending, including stimulus bills and block grants, and recommending ways Massachusetts can tap into additional federal resources. It will also work with a special redistricting committee— led by Brighton's Rep. Mike Moran, a key member of Mariano's leadership team— "to ensure continued communication with all stakeholders, including the Secretary of State's office, and to ensure the Commonwealth has the necessary structure and resources in place for an accurate and complete census count," Mariano's office said.
The census oversight role could prove critical in the way that Covid-19 vaccine doses and relief funds are apportioned, since such federal resources are sent to states on a "per capita basis." While Massachusetts is projected to see growth in its population —as much as 5 percent by some estimates— that actual count won't be known until later this year.
Last week, in a surprise announcement, the US Census Bureau announced that it now plans to deliver redistricting data to states by Sept. 30, instead of by March 31, a delay that will complicate efforts by state legislatures to redraw Congressional and legislative districts this year — as is required every 10 years.
Redrawing the boundaries of districts to reflect population shifts is a job the Massachusetts Legislature faces pressure to complete in time for the 2022 elections.
More immediately, Hunt's committee will likely grapple with decisions made by the Baker administration on how to award grant dollars intended to stimulate the state's economy.
On Tuesday, Hunt said: "We believe that the economy is hurting now and we'd like to get grants out the door to make sure businesses, especially our restaurants, survive."
His committee is one of several that will likely give additional oversight to how Massachusetts approaches Covid-19 response and recovery.
Mariano also named Rep. William Driscoll of Milton, who has a background in disaster response and emergency management, to lead a new Joint Committee on Covid-19 and Emergency Preparedness and Management. Rep. Jon Santiago of Boston's South End, who works as an emergency room doctor at Boston Medical Center, will be the House vice-chair.
Mariano said last week that the Baker administration's vaccine rollout has been "marked by communications and operational shortcomings" that need to be corrected, in part guided by feedback from the Legislature, as the effort continues.
State House News Service reports contributed to this article.