By Maddie Kilgannon, Reporter Correspondent
April 7, 2021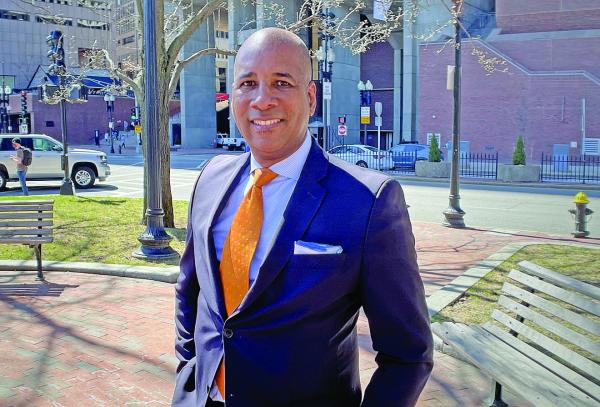 As the mayor's race shifted into a new gear this week with the entrance of acting Mayor Kim Janey into the four-year fray, newly-released reports show how much money the candidates raised last month to finance their campaigns.
Councillor Andrea Campbell has the biggest war chest heading into April. According to the state's Office of Campaign and Political Finance (OCPF), Campbell's campaign had nearly $975,000 on hand as of April 1. Not far behind is Councillor Michelle Wu. Her campaign reported $941,191 cash on hand; Rep. Jon Santiago reported roughly $526,000; Councillor Annissa Essaibi George opens the month of April with about $426,000 in her coffers.
John Barros raised about $215,000 in his first month as a candidate and has $230,000 cash on hand. Barros is the only candidate who is not currently in political office. Acting Mayor Kim Janey has $249,000, according to OCPF.
•••
On the council at-large front, there are two incumbent councillors who are seeking re-election: Michael Flaherty, who is presently the council's longest-serving member, reported just over $200,000 in his account as of March 31. Julia Mejia, who won a seat on the council in photo-finish-fashion in 2019, has $93,000 in her account to start the month.
Among the field of candidates seeking to win one of the four at-large council seats, first-time candidate Ruthzee Louijeune led the pack of newcomers, starting off April with roughly $100,000 in her campaign account. David Halbert, who is running for an at-large seat for a second time, had a strong showing with $66,000 in his campaign account.
Kelly Bates, another first-time candidate, had just under $56,000 cash on hand heading into April. Alex Gray, a City Hall analyst, reported $37,000 cash on hand. Hyde Park native, Jon Spillane has just under $29,000 in his campaign account and South Boston business owner, Erin Murphy's campaign had about $27,000 cash on hand on April 1. Said Abdikarim, a West Roxbury resident, reported just under $18,000 in his campaign account.
Nick Vance, a Hyde Park resident who grew up in Dorchester and Mattapan, has roughly $9,500.
Candidates Peter Lin Marcus, Althea Garrison and Carla Monteiro— who just entered the race last weekend— did not report any fundraising for March. 
•••
Laborers Local 223— the union once led by US Labor Secretary and former Mayor Marty Walsh— endorsed Rep. Jon Santiago's mayoral campaign on Friday. The Dorchester-based union local is led by Walsh's first-cousin— also named Marty Walsh.
"The relationship between the building trades and the mayor of Boston and the future development of our city is essential and we know that Jon Santiago is the leader that will continue that tradition of partnership," said Walsh, the local's business manager. said in a statement. 
"The story of this union and its members, generations of immigrants and the diversity they bring to the labor movement in our city is emblematic of the story of Boston. What they've done to build our city and build Boston's middle class is remarkable," said Santiago, who was once part of CIR-SEIU at Boston Medical Center. Local 223 has roughly 1,700 members.
•••
James Reginald Colimon, a former aide to Mayor Walsh and a Roslindale resident, announced his bid for an at-large seat on the City Council last week.
"I am running for City Council because I believe that with more equitable policies and wider access to opportunities, our City - and our people - can reach new heights," Colimon said in a statement released by his campaign.
A native of Haiti, Colimon has worked for the city for more than 15 years, beginning under Mayor Tom Menino's administrations. He served as the liaison to the Boston City Council for three years and the International Partnerships Manager in the Office of Global Affairs for four years.
"James is a connector and bridge-builder who is well known in the immigrant communities as someone who brings people together to solve issues," said former State Rep. Marie St. Fleur in a statement released by the campaign. "His multilingual/multicultural skills are what's needed to leverage the diversity that exists in our City." 
St. Fleur has also given her support to another at-large hopeful of Haitian descent: Ruthzee Louijeune.
Candidates have been hustling to meet voters and raise funds for— in some cases—months now. But next Tuesday, April 13- at 9 a.m. marks the official starting line for this year's municipal election. That's the first day and hour that candidates running for mayor or council can apply to pull nomination papers. Two weeks later— on April 27— the candidates can start getting signatures. Each candidate for mayor must collect at least 3,000 signatures from registered Boston voters. For at-large council, the threshold drops to 1,500— and it's lower— 200— for most district seats. However, three district council seats have even lower minimum signature requirements: District 7 (195), District 8 (130) and District 9 (164).
Reporter editor Bill Forry contributed to this article.