By Simon Rios, WBUR Reporter
April 22, 2021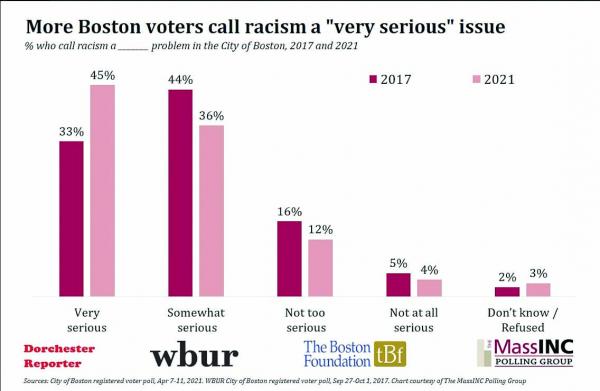 The vast majority of Boston voters believe racism is a serious issue facing the city, according to the recently Dorchester Reporter-WBUR-The Boston Foundation poll released last week.
Gail Coutain of Mattapan — originally from Trinidad and Tobago — said in an interview that she has experienced racism first-hand. Like when a man at a gas station recently told her to go back to her country. She even hears insensitive comments from white colleagues at her job in state government.
She recounted: "Statements like, 'I'm so sick of hearing about Black Lives Matter... who really cares?' So I looked at her and I said, 'Do you realize I'm Black?' [And she said] 'I don't mean you, you're fine.' I excuse some of it because it's unconscious, but it's there."
Coutain says her department has yet to offer racial sensitivity training to employees - but she's hoping that changes soon. While racism isn't new, she thinks she has seen a clear increase in anti-Black racism since Donald Trump was elected.
Overall, roughly 80 percent of respondents said racism was a very serious or somewhat serious problem in the city.
The survey also found that 44 percent of Black Boston voters — and 33 percent of Hispanics — said they have experienced discrimination over the past year, compared to 10 percent of white voters. The poll did not include large enough samples to provide similar statistics for other race and ethnic groups.
But Elizabeth Corbett of Dorchester is among the 1 in 6 white voters in the WBUR poll who take a different view in the discussion. "I don't see or hear racism as a problem daily here," she says. "It's definitely a problem in America, but as far as the city itself, I don't feel like it's as bad as it is in many other states."
This story was first published by WBUR 90.9FM on April 15. The Reporter and WBUR share content through a media partnership.