By Frank Baker, Special to the Reporter
June 24, 2020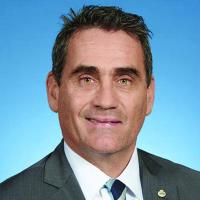 Let me start by saying this: Black Lives Matter. And we cannot take substantive steps forward to heal — as a community, as a state, as a nation, as a people— until we all embrace this. No lives truly matter until we all recognize that Black Lives Matter.
African Americans have every justifiable reason to be tired and outraged by the George Floyd killing, by the slow national response to the negative impact of Covid-19 on their communities, and by generations of racism.
There are compelling approaches to introducing change and there are also distressing actions that damage our great city. Those who target law enforcement, vandalize buildings and businesses, and add incivility and unrest not only take away from the poignant and necessary message, but they also contribute to the harmful polarization and hostility of this time.
We need our citizens to come together as a community – to initiate the healing of lifelong divisions and begin to build a foundation of trust.
Recently, spouses and other family members of the Boston Police Department have reached out to the City Council to express the angst felt by our police families. The families of the good and upstanding members of our police force – of which there are many – feel apprehensive and anxious about speaking in support of our police. They do not want their words interpreted as anything other than appreciating and respecting the work these officers have pledged to do in serving and protecting the public.
It is important to recognize that supporting BPD is not indicative of opposition to the Black Lives Matter movement. We can come together in doing both. The health and welfare of our city hangs in the balance.
I firmly believe the Boston Police Department to be the best in the country. It has been acknowledged for decades as a national leader in community policing – and for good reason. Our police department set the precedent in refusing to allow chokeholds to be applied in any instance.
There are now demands to take all our officers – about 65 in total — out of the Boston Public Schools. These officers do not carry guns or weapons of any kind. They are there to diffuse tense situations when needed. The vast majority of our officers care deeply about the communities they serve and actively work to integrate themselves as members of the community.
Behind the badges are our kids' youth sports coaches, the parents of children in our schools, and our neighbors. Nothing should negate the positive impact our PD has on our youth and communities related to leadership, sports, culture, school initiatives, youth dialogue programs and more.
I have been actively involved in politics my entire adult life and I pursued my current position on the City Council to help make real change both in my district and throughout Boston. I am proud that I have steadfastly pursued that mission by having real conversations with citizens, other elected officials, and civic groups. These conversations drive change and help us understand each other better.
We did not get to this tumultuous place overnight, and it will take time before we achieve meaningful change, but the first steps of this journey must start now. And they begin with individual action.
We all need to lead with love and pure intentions. That starts with basic civility and niceness as we pass each other on the streets.
I am committed to making change with Mayor Walsh and his administration. If we do this right, Boston can continue leading the thinking and action that will shape national and global behavior. I will continue this dialogue with more columns in the coming weeks and months. I look forward to hearing from all of you.
Frank Baker, a Dorchester resident, represents District 3 on the Boston City Council.