By Reporter Staff
August 13, 2020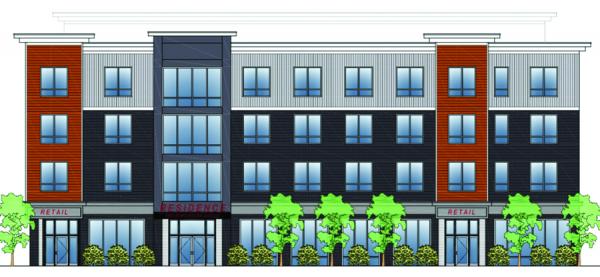 The developer Mark Kennedy filed plans with the BPDA on Monday for a 5-story, 28-unit residential building with ground-floor retail space at 1813 Dorchester Ave., across from Edwin Street, a few blocks north of the Ashmont T station. The first new development proposal along the avenue since the start of the pandemic, its cost has been put at $8.5 million.
In his filing, Kennedy wrote: "The project will not include accessory off-street parking owing to its close proximity to public transportation. Rather, the ground floor will contain two separate retail units, a gym or similar amenity space for residents, with an outdoor patio, a spacious bicycle storage room ..."
The building would replace a warehouse that now sits on the site. It would have 19 two-bedroom apartments and 9 one-bedroom units. Four of the units would be rented as affordable. Construction is envisioned in late 2021, with occupancy in late 2022.