By Reporter Staff
January 8, 2020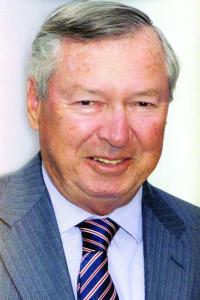 William "Bill" Francis Devin, of Braintree and Nantucket, passed away peacefully in his home on Thurs., Jan. 2. He was 81 years old.
The son of the late William H. and Madeline C. Devin, Bill was born in Boston and raised in Saint Gregory's Parish in Dorchester. A graduate of Cathedral High School in Boston's South End in 1956, he attended Stonehill College before serving in the United States Marine Corps.
Bill's dry sense of humor, devotion to family and friends and passion for financial services were magnified by his enduring contributions through his work and goodwill. His life was one filled with love and achievement. He built a career in finance, academia, and philanthropy that spanned six decades across the Boston community.
Bill began his career in financial services at Estabrook & Co. and was later recruited by the national firm, Dempsey Tegeler & Co. His seminal career moment arrived in 1966 when the founder of Fidelity Management and Research ("FMR") [today, part of parent company Fidelity], Mr. Edward C. Johnson II, invited him to join the company's equity trading department. Bill became one of roughly 500 Fidelity employees at the time. As his wife, Susan, with whom he spent 55 loving years, recalls: "Joining Fidelity proved to be a turning point for Bill. FMR opened a door for him that he could not have imagined coming from the working-class city of Dorchester. Once given the chance, his commitment and work ethic did the rest."
During his 30-year tenure, Bill served as vice president and head trader/manager in FMR's equity trading department for portfolio managers including Peter Lynch and future CEO and chairman, Edward "Ned" Johnson III. He later became executive vice president of Fidelity Capital Markets before retiring from Fidelity in 1997.
Outside of Fidelity, Bill chaired the New York Stock Exchange's Institutional Advisory Committee and served as a member of its market performance committee. He served eight terms as vice chairman of the Boston Stock Exchange ("BSE") and six years on the BSE's board of governors. In 1983, he co-founded and chaired the National Organization of Investment Professionals ("NOIP") to create a forum for the country's equity trading professionals.
Following his retirement, Bill served on the boards of national financial service companies including Sun America Funds (2001-2019) and Valic Funds (2001-2019), which he had chaired since 2005. He also served as a director of the Boston Options Exchange (2001-2011).
Beyond his professional career, Bill supported charitable and educational causes such as Catholic Charities of Boston, the Cystic Fibrosis Foundation, the Boys and Girls Club of Boston, Cathedral High School's Adopt-A-Student Foundation, and, especially, the Thomas Durant, M.D. Fellowship for Refugee Medicine. For almost 20 years Bill, and many other generous men and women, have enabled healthcare professionals from Massachusetts General Hospital ("MGH") to continue the work of Dr. Thomas Durant.
Bill had an extraordinary dedication to his alma mater, Stonehill College - an affection that has been reciprocated many times by the school. He served on Stonehill's Board of Trustees for over two decades, seven years of which as vice chairman. He led two comprehensive development campaigns, in addition to the 2012 presidential search committee. He and Susan established the William F. Devin Scholarship fund that continues to benefit Stonehill business students. He also established Stonehill's successful stock picking competition - the "Devin Family Cup."
In 1980, Stonehill presented Bill with the College's Outstanding Achievement Award. In 2012, he was again acknowledged when he received an honorary Doctor of Business Administration degree from the school. And, for a third time, in 2015, Stonehill recognized Bill with its prestigious Genesis Award, which hailed him for showing "the kind of leadership that spurs others to action and moves an institution forward."
Outside of the office, Bill spent his time golfing, boating, scalloping, and skiing until the age of 80. He was most passionate about golf, an active member of Wollaston Golf Club and the Nantucket Golf Club, whose inaugural member-member tournament he won in 1997. For 23 years, Bill was among 16 American golfers known as the "Famous Grouse" who competed in an annual Ryder Cup-style format against a same-sized British squad called the "Low Flyers."
Bill was proud of his Dorchester roots and his Irish heritage. He remained close to his "grammar school" friends from the Parish. He was an active member of Boston's 136-year-old Clover Club, whose membership of influential politicians and businessmen of Boston has included the former mayor of Boston, John "Honey Fitz" Fitzgerald, and US House Speaker, Thomas "Tip" O'Neill.
Although his business success and charitable contributions were remarkable, Bill was a family man, and his most proud achievement was the love of family as a father and grandfather. His unyielding strength, his quick wit, and his zest for life will truly be his legacy. As stated by his children, Kathleen and Bill: "He took pride in his children and grandchildren. He was always there for us with encouragement and understanding. The example of caring for each other that he and my mother set for us will be in our hearts forever."
Bill leaves his loving wife Susan (McCarthy) Devin, whom he married in 1964, and their children, daughter Kathleen (Devin) Garvey, her husband Jerold, and their children, Caroline, Lily, and Anna, and son William Devin, Jr., his wife Renate, and their children, William "Charlie" Devin and Natalie Devin. He also leaves his brother Paul and his wife, Judy, as well as his sister-in-law, Ann Devin, the widow of his brother Robert "Bobby" Devin.
Bill's funeral Mass was celebrated on Wed., Jan. 8, at St. Gregory's Church, where he once served as an altar boy. Burial followed in Cedar Grove Cemetery, Dorchester.
Should friends desire, memorial contributions may be made to the William F. Devin Scholarship Fund, c/o Stonehill College
Office of Development, 320 Washington St., Easton, MA 02357. To leave a sympathy message for the family, visit cartwrightfuneral.com.
Mr. Devin's funeral arrangements were made under the direction of the Cartwright Funeral Home, 845 Washington St., Braintree, which submitted this obituary to the Reporter.