By Michael P. Norton, State House News Service
December 3, 2020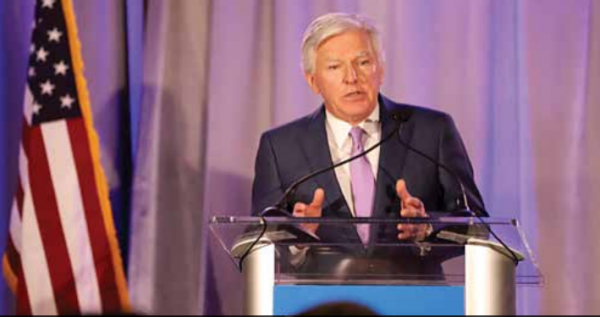 Predicting more difficult times ahead, University of Massachusetts President Marty Meehan said on Sunday that UMass has been in a crisis situation since March but, he noted, it graduated 18,000 students in the spring, has held its own in retaining students, and has managed to launch a successful Covid-19 testing program.
"We're challenged, but we think that UMass is going to get out of this stronger than we got into it," Meehan said on WCVB's On the Record program. "And the fact of the matter is the Massachusetts economy needs a strong UMass. We're the third largest employer in the state. We do $684 million worth of research, so we need to build this economy and get out of this mess and UMass will lead getting us out of it."
Most students are attending UMass virtually, but the campuses have conducted more than 250,000 coronavirus tests with a 0.2 percent positive rate, Meehan said, expressing hope that a vaccine will restore normal campus operations.
"We're hopeful that next year we're back," he said. "We do want to get students back into a situation where they're on campus as soon as we possibly can."
Meehan also said that UMass, which has waived SAT and ACT tests as part of its application, may permanently remove the tests from the application process. "Yes, we're considering that on a campus-by-campus basis. Absolutely," he said.
In sports, UMass's Division 1 basketball, hockey, and football programs are operating at the Amherst campus, with the UMass Lowell hockey team also competing in Hockey East.
"The difficulty, though, is that we don't have people in the stands," Meehan said.
"We can't have people in the stands, and I look at the economics of sports, too, and one of the things we like about Hockey East - our hockey teams both in Amherst and Lowell – is that they generate the revenue to support those programs." Teams are following Covid protocols, he said, "but if we do have issues, we're simply going to have to shut it down."
The UMass system has furloughed employees as part of its plan to absorb a $350 million hit due to the pandemic, Meehan said while calling for the inclusion of public higher education in any federal relief package.