By by Katie Trojano, Reporter Staff
April 14, 2020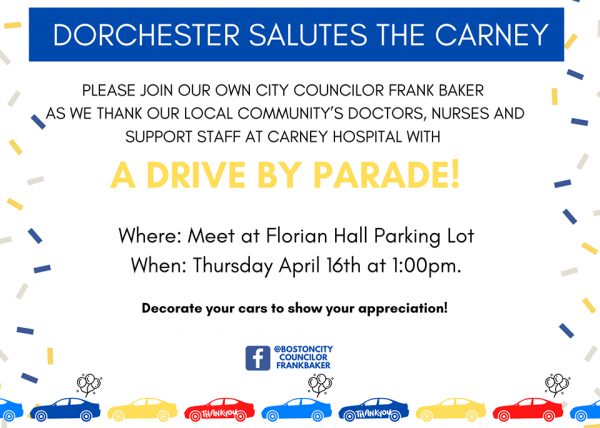 In an effort to show support for frontline healthcare workers at the Carney Hospital, District 3 Boston City Councillor Frank Baker announced on Monday that he'll host a "drive by parade" at 1 p.m. on Thursday. Participants will meet at Florian Hall's parking lot, at 55 Hallet St, and are urged to decorate their cars in preparation for the salutation drive-by.
"We really want to show our support for people working on the frontline in response to this virus," Baker said in a phone call Tuesday night. "The Carney was there early on and we just want to have this drive by parade to show them we're there for them in some way-- maybe buy them lunch a couple of times."
On March 17 Dorchester's Carney Hospital was named the nation's first "Dedicated Care Center" for treating patients who test positive for COVID-19. Local community doctors, nurses, and support staff have continued to care for patients during the pandemic.
The idea for the event surfaced last week, Baker said, when his office receives some calls from people requesting that he organize the event.
"If you can't make it Thursday, please consider a donation to the Carney Hospital Employee Appreciation account at Pat's Pizza. This was created to feed the staff who are working tirelessly through this crisis," Baker's team wrote in a statement. Participants can call Pat's Pizza at 617-298-2222 to make a donation.