By Daniel Sheehan, Arts and Features Editor
December 10, 2020
Black Voices Boston, a performance project and collaboration between Celebrity Series of Boston and Rafael Palacios, artistic director of the Afro-Colombian dance company Sankofa Danzafro, premiered on the Series website on Dec. 6. Over the past month, seven artists from the Boston area, including several from Dorchester and Mattapan, worked virtually with Palacios to translate their own stories into dance form, compiling a visual storytelling project centering on the Black experience in Boston.
Two of those artists were Marlon Forrester, a painter and community activist from Mattapan, and Shirley Jones-Luke, a writer, poet, and public school educator from Dorchester.
Forrester based his short piece on a poem he wrote titled "If Pain," a reflection on being wrongly detained by the police and accused of shooting an officer when he was a teenager. That experience proved to be formative, said Forrester, and continues to inform the way he is raising his children.
"I was thinking about one of the prompts for the project, which was 'How do you respond to situations that have changed your life?' And thinking back to that situation as a young person, I was really ashamed of it. I was young – 16 – but had the frame of someone who was older and taller, and so I 'fit the description.' I had heard stories growing up in Boston to watch out for the police, but I was a good kid, you know, I wasn't really in the streets like that. I thought I was immune to that, but when I shared my story everyone was like, 'That's all that happened?' That story became almost an anthology of other Black stories about the same thing."
Forrester worked with Palacios via Zoom to develop choreography and movements that best express the tone of the poem. "We did that by reflecting on specific passages in the poem and relating them to emotions that could be synthesized through dance: things like breath, sweat, pain, and tears," said Forrester. 
In analyzing how the memory has shaped his worldview, Forrester acknowledged that the traumatic experience gave him a deeper sense of determination.
"The situation with the police was not a positive situation, but it also built in me a level of drive. It's something that speaks to the reality of, if you're a Black man, you're going to have to do more, ask more of yourself...To me, this performance is about understanding that I could have built a sense of hate, but I used it as another opportunity to grow and elevate my consciousness."
For her collaboration with Palacios, Jones-Luke drew upon memories of growing up in poverty on Quincy Street and living in a home infested with insects.
"I'd say there's a theme there of poverty and of perseverance," she said. "I had an image in the story of where we grew up, and how our apartment was overrun by roaches. They were a constant part of our childhood; no matter what changed, the overarching thing was the roaches. And it turned out that I made this bond with Rafael over shared experience, since he had grown up in a similar situation with insects."
For Jones-Luke, the vivid memory is not so much haunting as it is a reminder of her and her family's persistence. For her dance, she incorporated a fake cockroach and other props to bring the memory to life.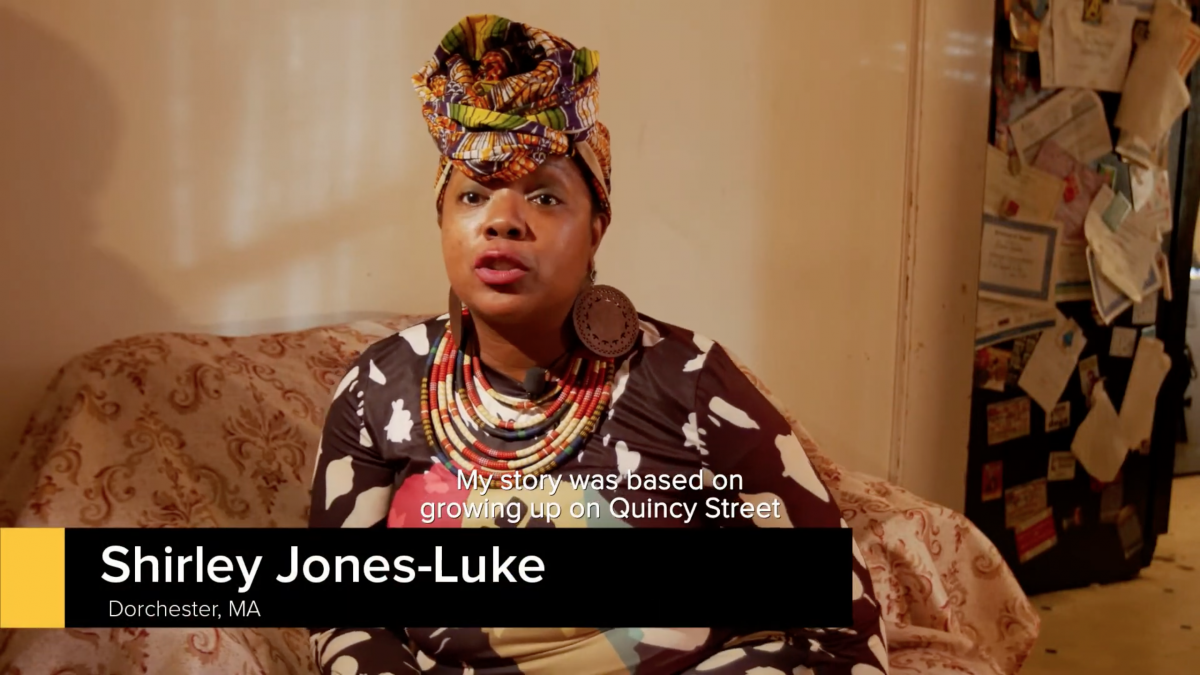 "I'm working on a series of essays called "Acts of Survival," and this story is one of those acts," she explained. "It draws on my perspective of surviving not just in Boston but in America in general, and how a Black woman moves through the city, through the world...essentially it's showing what we did in terms of the roaches to survive."
She hopes the project will build understanding and compassion by showing people the "hidden" stories that make a person who they are. "You don't know anyone's story just by looking at them. You don't know what they went through just to get to what we've seen. A lot of times people had to fight tooth and nail to get where they are – those are the acts of survival I'm talking about."