By Daniel Sheehan, Arts & Features Editor
October 7, 2019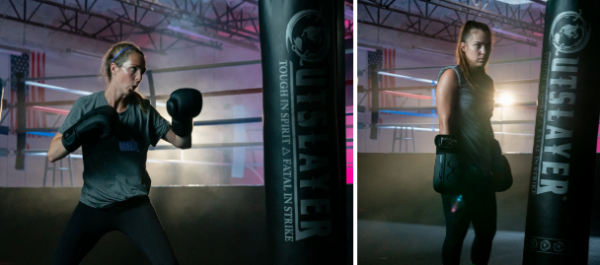 This Wednesday evening, two Dorchester residents will strap on their gloves, lace up their sneakers, and step into the ring with a common goal: to knock out cancer. Erin O'Neill, 28, and Megan Walsh, 27, will be participants in Belles of the Brawl VII, the seventh iteration of the annual charity boxing event put on by Haymakers for Hope, a nonprofit that has raised over $11 million for cancer research over the past decade.
The Wednesday event at the House of Blues on Lansdowne Street will mark the culmination of a four months-long journey that has seen the two women endure intensive training in preparation for their respective fights, all the while raising a record-breaking total of over $575,000 to be donated to the Dana-Farber Cancer Institute.
The USA Boxing-sanctioned event will feature 32 fighters – all women – who will make up a card of 16 bouts, each lasting for three two-minute rounds. For Walsh and O'Neill, neither of whom has had any boxing experience, the countless hours in the gym have proved grueling.
"I've bled a lot over the last few months," said Walsh, who was inspired to take part in the event after watching it last year.
Preparing for a boxing bout means getting to the gym as early as 5 a.m., engaging in rigorous cardio and strength-training regimens, and sticking to a strict diet. In Walsh's words: "A lot of cardio work, a lot of technique work, a lot of getting yelled at."
But those sacrifices pale in comparison to the daunting task faced by cancer patients, said O'Neill, who has found herself in close proximity to the effects of the disease while training.
"A lot of women competing are either cancer survivors or are dealing with terrible family situations at home," she explained. "We're all working hard, but when you see that and learn about those women's stories, that's the perspective that we need. Everyone's working their butts off, but it's such a small sacrifice compared to what these families are going through."
Walsh said she's had a similar experience at her gym.
"There's one woman training alongside me who's a survivor herself," she said. "It's just so crazy to see that. On the days when I don't want to show up or I feel too tired to do it, you know, I just remember that people going through chemo don't have a choice."
Both women have been personally affected by the disease: a close family friend of O'Neill's is currently battling Stage 4 pancreatic cancer, while Walsh says she has lost both grandparents to cancer. That personal connection makes the experience even more meaningful, they agreed.
But enduring the blood, sweat, and tears in training has also resulted in personal growth, both in a physical and a mental sense, they say. As former athletes, O'Neill and Walsh say the challenge has reignited a competitive spark in them, in addition to whipping them into the best shape of their lives.
"I'm impressed with how much we all improved over four months," said O'Neill. "There are definitely some benefits in being in this together with other women and showing that it's cool to be strong. In this environment, you don't want to be a skinny twig."
O'Neill and Walsh both plan to keep boxing after the event is over.
"Part of me doesn't want it to be over because it's been a rough four months, but I've loved every second of it, even when I'm crying in the gym," said Walsh. "It's been an absolutely incredible journey, and I'm already jealous of the people who get to do it next year."
Belles of the Brawl VII will take place Wednesday night at the House of Blues, with the first fight beginning at 7:30 p.m. Tickets are available for purchase online at haymakersforhope.org, with all proceeds going to the Dana-Farber Institute.