By Jasmine Braswell, Reporter Correspondent
June 13, 2019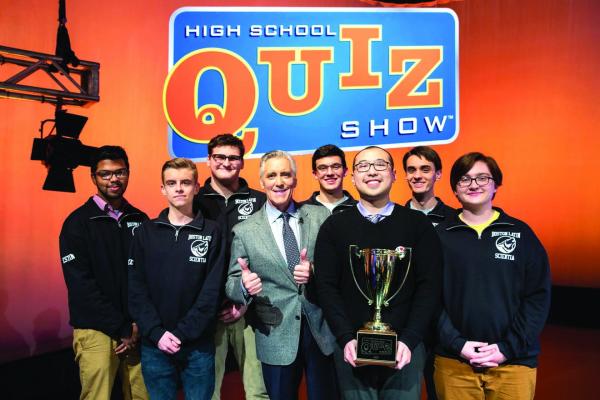 Sebastian Suarez of Dorchester and his teammates from Boston Latin School are the New England champions of the WGBH High School Quiz Show after beating out a squad from New Hampshire's Plymouth High last month.
The BLS team included seniors Nicholas Weiske of Brighton, Aidan Goldberg of Roslindale, and Suarez, who is heading to Princeton University this summer. Christy Jestin, a junior from West Roxbury, rounded out the BLS team, which also counts four alternate members—Claer Jestin, Joseph Terrey, Sam Cheever, and Lucas Aho— in its ranks. They were coached by history teachers Clara Webb and Andy Zou.
The show, hosted by Boston media personality Billy Costa, tested the students in high school curriculum standards in subjects like literature, history, civics, science, math, and current events.
"It was really a vindication of how much we had really done," Suarez said. "A lot of studying can happen, and it might not pay off, but it did in this instance. It showed us that we were really able to win." 
Said Coach Zou: Sebastian "works really hard, on his own time. As we broke up the content, he really went ahead and got into science and political and current events. He's very well-rounded."
This season marked the first time that Boston Latin School qualified for the show, which was produced by WGBH at its Brighton studios and simultaneously broadcasted by Maine Public TV, Rhode Island PBS, and New Hampshire PBS. The students emerged from a pool of 116 teams across the state, eventually edging out reigning state champs Lexington High, Worcester's South High, and Acton-Boxborough Regional High to earn their spot in the New England finals.
Zou was impressed by how each of the BLS students prepared for the competition. A regular practice day included "asking questions of current events, when to confer and ask each other questions, or discuss whatever topic the team wanted to. We practice on buzzers, so you start to get familiar with the speed," said Zou.
"They're very strong students and in all subjects. A lot of that is a testament to them, but also the teachers at the school who covered the content well," Zou said.