By Daniel Sheehan, Reporter Staff
August 16, 2018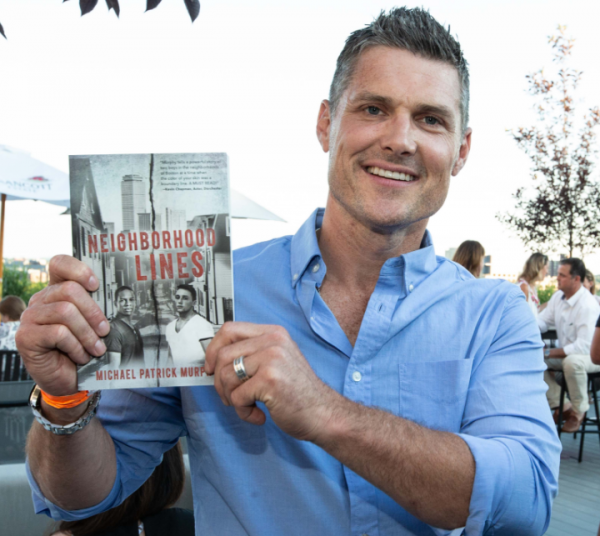 Michael Patrick Murphy knows that history is cyclical. The South Shore native spent the formative part of his adolescence in South Boston and Dorchester, attending Boston College High School and UMass Boston. At that time, running from the late '80s through the early '90s, racial tension was at a high level. Although the desegregation of the city's public schools had been happening since the mid-1970s, it was just starting to take place at private and parochial schools, which at that point were almost exclusively white.
Murphy's first book, "Neighborhood Lines," follows the relationship that is forged between Nate, a black student from Dorchester, and Patrick, a white, Irish-Catholic from Southie, as their worlds collide at Cathedral High School in the South End. The story is fictional, but, as Murphy explained in an interview with the Reporter, it's loosely based on people from Murphy's life and from events that shaped the reality of life in Boston at that time.
The three-year span from 1989 to 1991 saw Boston's murder rate climb to some of the highest levels in the city's history. Murphy was then a student at BC High, a Jesuit school for boys in grades 9 to 12 that was just beginning a program to enroll black students at the school in higher numbers. According to Murphy, the demographic changes created tension at the Morrissey Boulevard school.
"It definitely impacted a lot of lives," he said. "I was friendly with a bunch of guys, but you know, there were fights in the schoolyard, in the gym, at JFK train station."
This uneasiness reached a boiling point in 1990 when a 15-year-old Don Bosco High School student, Robert Noble, was gunned down on Ashmont Street near Neponset for, as Murphy put it, "five dollars and a gold chain. Boston Police later identified his killer as a Dorchester teenager from Fields Corner who had targeted Noble for a robbery after his car had run out of gas nearby. The assailant was later gunned down in New York City, according to investigators.
"That impacted us all, it caused tensions to heighten," said Murphy. "It was very emotional for me. I didn't know [Noble] too well, but I was friends with a lot of Adams Corner guys and Savin Hill guys who hung around with him all the time."
Murphy's book is his attempt to capture the chaos of that time as he explores the ethnic and class lines that have long divided, and still divide, Boston, and writes about what happened when those lines were crossed some 30 years ago.
But his story also delves into the positive ways that diversity can have an impact on people's lives. Just as Murphy says he did during his time at BC High, Nate and Patrick overcome obstacles from their personal lives to become friends and learn that, while they were leading very different lives with different backgrounds, they also faced similar struggles.
"It wasn't easy back then, but it was something we all went through and got through, and it made us all more well-rounded, cultured people," the author said.
The book is targeted at high schoolers in the hopes that they might learn from the past and use that knowledge when they look at a world today that is still plagued by much of the racism and bigotry that existed 30 years ago. Murphy asserts that the heightened profile of racial issues in recent years created a renewed sense of urgency that his book, which he first wrote for a UMB writing class in 1998, should be shared with others. "I was kind of taken by surprise," he said. "When you see certain recent events, you're like, wow this is still happening?"
Murphy added that Nelson Miranda, BC High's director of diversity and a classmate of his whom he consulted while writing the book, told him that some of the issues from 1990 remain at the school today.
More widely, it's no secret that race is still a problem in 2018 Boston. Just last week, the Boston Globe published a piece on the city's "resegregating" of the public schools. Days before, a public, bigoted tirade against a black man and a black woman in Adams Village made headlines nationally. While Boston has certainly changed a lot in recent years, there are still some people, places, and institutions mired in stasis, said Murphy, a student of history who says he can't help but feel that scenes from his teenage memory are being replayed in the city today.
"I've always been intrigued by history," he said. "Ideally, you learn so many things from history. You learn from history and don't repeat it."
This historical awareness informs Murphy's book, which is enhanced by a handful of infamous photos that accompany the text – the incident in which Mayor Flynn was hit in the neck with a bottle during a riot outside South Boston High School, and a look back to the time when "Irish Need Not Apply" caveats adorned help wanted signs at Boston businesses.
The photos "helped to show that reality," said Murphy. "We're all immigrants here, we all come here and arrive and have to take our place, earn our place in society...Being able to understand each other's cultures, each other's views, can create unity at a better level."
At the launch of "Neighborhood Lines" last month at the Revere Hotel, Murphy mingled with some of his old classmates from South Boston and Dorchester. It was a sort of revival of friendships that had been forged, like Nate's and Patrick's, across racial and geographic borders. "Seeing the interactions between these guys, white and black, it was amazing," he said. "I was thinking to myself, 'This is exactly why I wrote the book. This is why the program was started.'"
"Neighborhood Lines" is available for purchase, both in hard copy and ebook form, on Amazon and at neighborhoodlines.com.